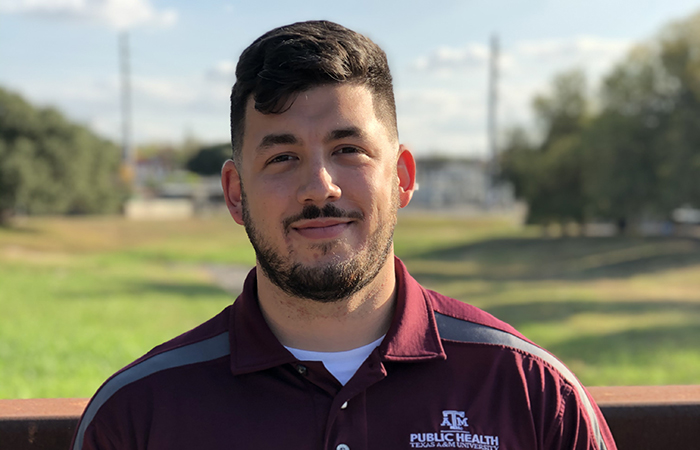 About Stephan
Bachelor of Science in Public Health
Public Health Studies
---
Hometown: Corpus Christi, TX
Class: 2020
Undergraduate Major: Public Health
Professional Interests: Health Policy, Emergency Management, Medicine
Campus Involvement: Student Health & Wellness, Aggie Honor Council
Why did you choose Texas A&M Public Health?
I always had a passion for medicine and health, which were strengthened during my time in the Marine Corps Infantry. After my enlistment, I learned more about public health when I spoke with an adviser and couldn't believe what a great fit for me it was. The long list of areas in which you could make a difference made me very excited to pursue a Bachelor of Science in Public Health (BSPH).
I applied to the Texas A&M Higher Education Center in McAllen because I was impressed that the adviser came all the way to Corpus Christi from the Rio Grande Valley. I believe I was one of the only students to speak to her that day, and I am glad I did. I ended up making it into the BSPH program before the doors even opened at the Higher Education Center. 
I was so thankful that the area I was pursuing my degree in had so many opportunities for me to practice the skills I was learning in the classroom.
I really identified with public health because I am somebody who doesn't want to always rely on a pharmaceutical intervention. During my studies, I learned various ways you can positively impact a community's health, some as simple as making sure communities have access to care and walkable communities.
It has been exciting to be in a field that I know was definitely the right decision and direction, especially during the pandemic. I have seen public health in action. Up next for me, I will be applying to graduate programs in preparation for medical school, and I know that I will be a better physician for having a public health background.