Education tailored to make an impact
The Texas A&M School of Public Health offers a variety of degree programs that empower our students to improve population health both domestically and globally. Our innovative curriculum offers relevant practical skills with a collaborative learning structure across students, faculty and disciplines.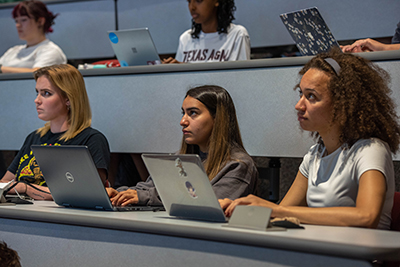 Transformational Teaching and Learning
Our award winning public health curriculum diversifies education. The new integrated program changes the way master's students think, focusing on populations at the outset while also solving real problems.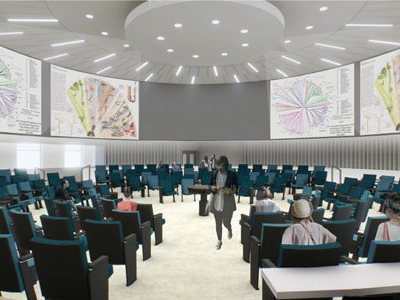 Working together to advance public health
Our students have the privilege of working closely with one another throughout their undergraduate and graduate education, feeling supported by both their professors and their peers. We build strong community and professional networks, and assist students in the realization of their public health career potential and goals.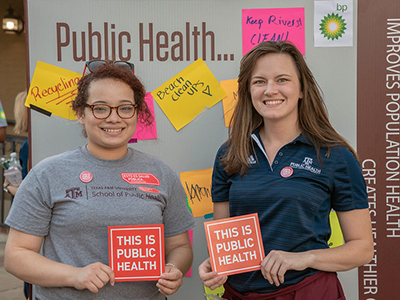 NOTICE
As required by Texas Education Code, the Board of Regents of The Texas A&M University System will hold a public hearing to receive input from students regarding the proposed new undergraduate tuition and fee structure as shown in Agenda Item 1.1 for Texas A&M University, Texas A&M University at Galveston, and Texas A&M Health Science Center to be effective with the Fall 2023 Semester. This hearing is for students to provide input to the Board of Regents and will be scheduled during the November 10, 2022, Board Meeting, Memorial Student Center (MSC), Bethancourt Ballroom 2300 (D&E), 275 Joe Routt Boulevard, Texas A&M University, College Station, Texas. Students wishing to provide public testimony on proposed increases should follow the guidelines as set forth-in Policy 02.01 (paragraph 2) posted on the Board's website.