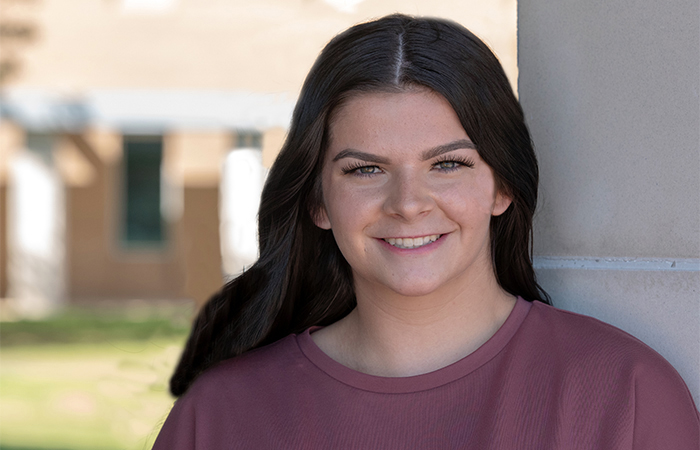 About Madision
Bachelor of Science in Public Health
Public Health Studies
---
Hometown: Glenn Rose, TX
Class: 2022
Undergraduate Major:
Professional Interests: Health care policy, health care insurance reform, Texas Presumption Law
Campus Involvement: Gamma Phi Beta Sorority, Order of Omega Greek Honor Society, Aggie Network Student Ambassadors
Why did you choose Texas A&M Public Health?
While watching my stepfather go off to work to save lives every day as a firefighter, I always had love and respect for first responders. My stepfather's friend was hospitalized and eventually died from what is believed to be carcinogenic exposures while on the daily job as a firefighter. Simple public health protocols like replacing lead infrastructure in older buildings could have saved the life of this public servant. Knowing that this could possibly happen to my stepfather made me more interested in advocating for public health especially in the interests of first responders.
I was accepted into the Public Policy Internship Program (PPIP) at Texas A&M. My policy essay, "Saving those who save lives" discussed the failures of health policy that did not provide my stepfather's friend with the proper financial compensation to seek care for his exposure while serving as a firefighter. This summer I will serve as an intern in the Office of Strategic Operations and Regulatory Affairs for the Centers for Medicare and Medicaid Services. This role will allow me to continue my passion for health care insurance reform and advocating for financial protection for first responders under the Texas Presumption Law— a law that presumes firefighters diagnosed with cancer were exposed to carcinogens on the job and provides a way for these public servants to receive their benefits quickly.
My passion for health care insurance reform for first responders has been greatly supported by the faculty members here at the School of Public Health. My essay for PPIP was a success because of their guidance. The professors here want all of their students to make a difference in the world. I think any student would say that the faculty breathe so much life into their students because of their passion for public health, which is gift you cannot find in many other places.