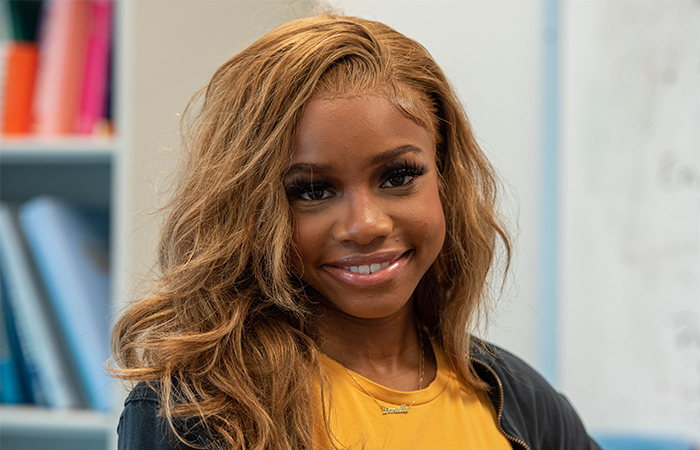 Danielle Udoh '21
Why did you choose Texas A&M's School of Public Health?
"I was given the chance to attend A&M through the Posse Foundation. I chose the School of Public Health because I knew that it was a smaller, close-knit program. I didn't want to go through large classes, I wanted something where I could be close with my peers and professors. I think that the class size is why I've really been able to build relationships with others in public health."
What has your experience been like in the program?
"One thing that's really interesting about the program is that the students you meet in that first year are the people you will see all throughout your time at the School. Being involved with Broad Street with Dr. Don Curtis my freshman year opened my eyes to all the field of public health has to offer. I was very nervous at first because I didn't know what to expect, but quickly became less so because of how fulfilling every single class I've taken has been."
How well-prepared do you feel for a post-grad career?
"On a scale of 1-10, I'd say a 10. My goal is to go to med school, and I feel the School of Public Health has prepared me to be a competitive candidate. I have such a good understanding of public health that I'm able to speak conversationally with prospective employers and medical professionals. The School of Public Health has helped me feel more comfortable stepping into the real world and for the next step in my education."
What are your plans for the future?
"I'm going to finish my degree this fall and then spend the spring studying for the MCAT so I can get into medical school next year."
What level of support have you received while in your program?
"One person that immediately comes to mind is Dr. Curtis. He has been super helpful in everything that I have done and gives very genuine advice. I love his open-door policy, because I'll be in-between classes and can just stop by. I so appreciate his dropping everything to catch up with me."
What do you think of the coursework?
"Two great professors that come to mind are Dr. Angela Clendenin and Dr. Reed. From Dr. Clendenin we learned about emergency preparedness, and Dr. Reed taught about statistical data regarding public health. Overall, there has been a very broad range of things I've learned. I remember in class before the COVID-19 pandemic, we had a simulation about a disease outbreak. That activity was helpful in preparing us for the pandemic were about to live through and just goes to show how every single detail in public health we are taught is something that can be used in the real world."

How has the School of Public Health changed your view on health?

"I never realized how everything is an aspect of public health. You don't have to be in the hospital for it to be considered public health, and it's important to not just think of health as one thing. Public health is very broad field. It's not just illnesses and diets, it's everything around you. That's something I've been taught from my first day here all the way through my last semester."
What has been your favorite thing about the program?
"I love the group aspect of the program. We get to collaborate with other students in almost every class we're in, and I think it translates well to the real world. I'm in an internship right now and I'm using these same group skills to work with not only people who are on my same level, but also executives and other higher-ups."

What impact has the Posse Foundation had on your college journey?
"Posse has definitely made a safe space for me on campus. In my posse I have 10 other students and we are all broadly involved in everything STEM. Having this support system to lean on is something that has played a big role in my success. I'm also involved with the Texas A&M Honor Council and that is something I never would have known about without the Posse Foundation. The network I have built and been exposed to through Posse has helped me so much, and I know it's going to continue to help me even after I graduate from A&M."