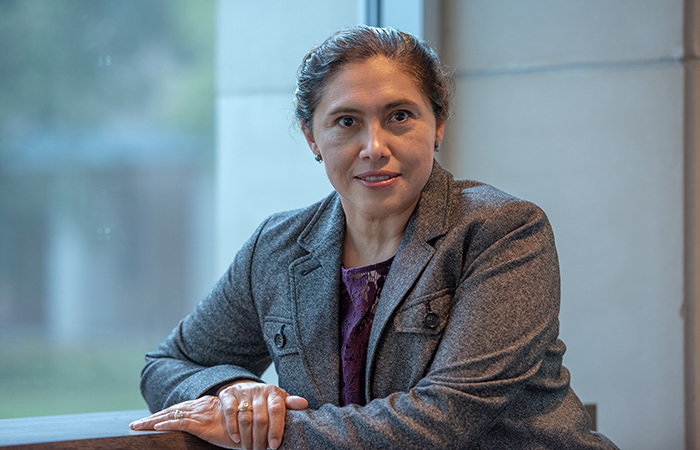 About Donaji
Doctor of Public Health
Health Behavior
---
Hometown: Houston, Texas
Class: 2019
Undergraduate Major: BS in Accounting MPH in Health Promotion and Behavioral Sciences
Professional Interests: Health disparities, community health, maternal & child care
Campus Involvement: MD Anderson, Texas Children's Hospital, US Army Reserve
Why did you choose Texas A&M Public Health?
After serving in the Army Reserve for eight years during the Iraq War, I was looking for a school that had an abundance of resources for veterans. I also wanted to be a part of a school that embraced the spirit of selfless service, especially when it came to addressing health disparities in today's society. Texas A&M not only has programs that allow veterans to easily transition into civilian life, but the School of Public Health also offers a close-knit, supportive community, something that is not available at many other higher education institutions.
While completing my doctoral program, I was taking care of my two children and my  parents. I remember visiting my father-in-law and my mother in the hospital at the same time when they were both sick. My professor, Dr. Marcia Ory, encouraged me to slow down and suggested that I take some time off.  The compassion and love I was extended while attending the school are what encouraged me to push through these difficult times.
When looking back at how far I've come, I am thankful for the positive relationships I've created while at the school. The School of Public Health was the best choice for me because, in the midst of battling a rare health condition and taking care of sick relatives, the respect and loyalty that the students and faculty shared with me are reasons why I have successfully obtained by doctorate degree and look forward to helping disadvantaged communities.
Donaji currently serves as an assistant professor and director of the Community Health Worker Training Center at the University of Houston.