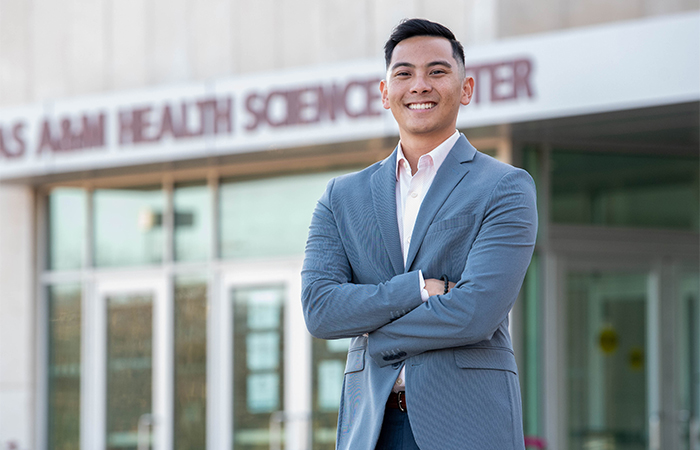 Anton Soriano 22
Graduate Research Assistant, Texas A&M Center for Population Health and Aging
Why did you choose Texas A&M's School of Public Health? 
"The opportunity to expand my public health knowledge and impact the community I grew up in. I also always wanted to get my Aggie ring."  
What has your experience been like in the program? 
"My cohort is amazing. I have gotten to meet great faculty members and build connections with them. From my job in the Center for Population Health and Aging, I received another opportunity to participate in a COVID-19 research program." 
How do you feel this program has helped you prepare you for a post-grad career? 
"Some of my interests are preventive medicine and diabetes self-management. Since I want to go into the field of medicine, the material I have learned in those topics will help me better treat my patients. Not just treat them as the disease or chronic pain, but as a patient and look at them holistically. With preventative medicine, a lot of people go to the doctor because they are sick but if we can prevent the sickness in the first place, then we should do that. Public health practice is a great way to do this. Public health is a great way to promote health for the community at large." 
What level of support have you received while in your program? 
"One of the best forms of support is the cohort. You develop a bond with them because they are going through the same things you are. You build that sense of camaraderie and unity with each other even during difficult times. You know that you can rely on them, and they know they can rely on you to get through those tough times." 
What do you think of the coursework? 
"The coursework is beneficial and interesting. In my undergrad it was learning about topics that were memorization based. With public health, the lessons that you learn will stick with you your whole life because they are applicable, and you can apply it to any profession. If you want to go into health policy or occupational health, I think a lot of things you learn throughout your MPH course work will benefit you personally as well as your career."
How do you feel you have changed, personally or professionally, since the beginning of the program?
"I have developed a lot professionally. Coming out of undergrad, I did not know what to expect in graduate school. But with my graduate assistant job, getting to work with the community helps you grow more and develop more as a person. I have enjoyed the opportunity to work with older people and not just people in the 18-20 age range. Working side by side with distinguished faculty members, you work with them to accomplish a goal. It is not like you are below them, you are working with them which is amazing."
What advice would you give to someone looking into A&M's School of Public Health?
"Be interested in public health if you are wanting to be a part of the school. Look into the concentrations that A&M's School of Public Health offers."
What are your plans for the future? 
"After I graduate, I would like to find a job that is related to public health. I do hope to go on to Med school." 
What is your favorite thing about the program? 
"The people. I got blessed and lucky to have such an awesome cohort to be around. I consider these twenty people to be my family. I hang out with them every day in and outside of class."