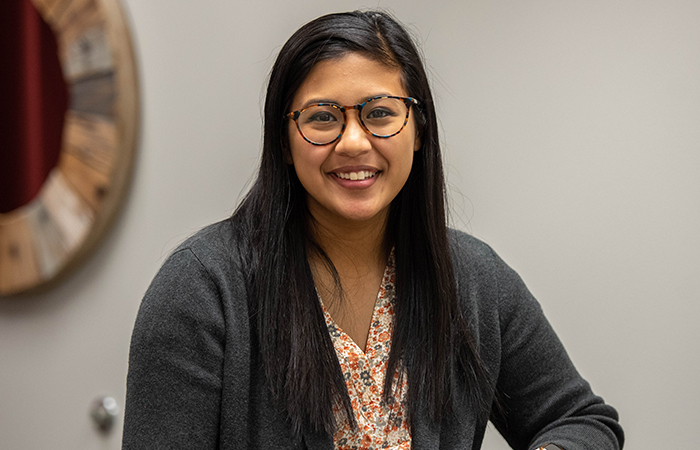 Aakriti Shrestha '25
Why did you choose Texas A&M's School of Public Health? 
"I wanted to go to A&M's School of Public Health because of its focus on rural health and health policy, which are two topics I am very interested in. It is also a great research institution, and I knew working with the school's faculty would help me become a better researcher."  
What has your experience been like in the program? 
"It has been really good so far. We have a smaller cohort which allows us to have more individual instruction. The faculty have given me a great deal of guidance and support in terms of my career and research interests."
How do you feel this program has helped you prepare for a post-grad career? 
"I have learned so much about how to apply what I am learning to the real world. In the first-year doctoral student seminar, we learned about careers that we can pursue following graduation and discussed opportunities available in academia and in government. The professors lay out the expectations of what you should be focusing on during your time here and discuss what work you should be doing to make yourself more competitive to employers." 
What level of support have you received while in your program? 
"The faculty are willing to work with you and are always readily available. They never make it seem like what you are asking is stupid and they are willing to take the time to explain something more in-depth to you. I have had great emotional support and I have felt welcomed here at A&M." 
What do you think of the coursework? 
"It has definitely been challenging but it's a good type of challenge and not unreasonable. Yes, it is hard work, but it is all relevant and the workload does not hit you all at once as it gradually progresses over the semester. You're not being pushed into the deep end with the course material, and professors take the time to explain concepts from the ground up if needed. The classes we are taking are valuable in developing our skills as future researchers, policy makers or economists. I'm excited for my next semester of classes because they dive more into the policy side of things." 
How do you feel you have changed, personally or professionally since the beginning of the program? 
"I'm more okay with accepting that I do not have the answer to something, and it is fine to reach out for help. During undergrad and my master's program, I found this to be a personal challenge. I feel like I have developed the ability to be able to advocate for myself in terms of what it is I am wanting to accomplish and the goals I have." 
What advice would you give someone looking into A&M's School of Public Health? 
"The School of Public Health does a great job of working with you, so it is okay to not know everything before school starts. Networking is important. Talk about what you are interested in so you can surround yourself with like-minded people. Get to know your faculty."   
What are your plans for the future? 
"I would like to work in the private industry or the government sector. I want to have a career in maternal health in marginalized communities. Also, I might pursue an adjunct professor role because I like the academic community." 
What has been your favorite thing about the program? 
"The faculty members are my favorite part of the program. I have found it easy to just email them and say I know we haven't met yet, but I see your interests and would love to talk to you. They are more than happy to talk or explain something to you. They are supportive and want you to do well, get publications and follow your career path."
Learn more about the PhD Program