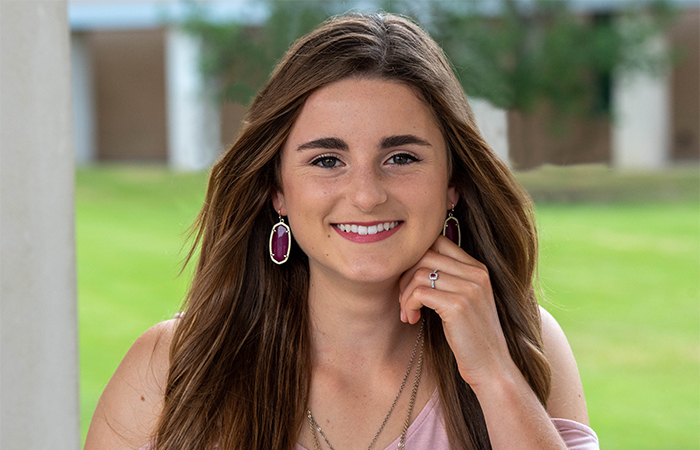 Riley Johnson '23
Why did you choose the Texas A&M School of Public Health?

"I knew I wanted to go to A&M, but I wasn't sure what I wanted to major in for my undergraduate degree though medical school is my ultimate goal. My sister was already a public health student and absolutely loved it. This influenced my decision to also pursue a public health degree. I knew that this program would help prepare me for medical school and give me a broad view of what health is."
What has your experience been like with A&M's School of Public Health?
"My freshman year I was in the Broad Street program, which is an Honors learning community at the school. I remember walking with friends after class and talking about how great of an idea Broad Street is with Dr. Don Curtis. Broad Street helped give me a sense of purpose, and my classmates felt the very same way! Even though we were all freshmen and taking our basic classes, Dr. Curtis helped keep us together and remind us that we are public health leaders."
What do you think of your coursework?
"The School of Public Health has given me almost all of the science credits I need to apply to medical school. But it's been more than just credits, it's the atmosphere of the school overall that is so great. The instructors in public health set high expectations for their students which helps us be the best we can be. Faculty and staff also provide such great support along the way."
What have you liked the very most about your program?
"When I go to my public health classes, I know that I am going to be able to work well with my classmates. The type of person that is in this major is hard-working and open to collaboration, which has made learning so enjoyable. The availability of the faculty is a highlight as well. There is such an accountability between the faculty and students that I know they are invested in us authentically."
How have you changed since joining the School of Public Health?
"I don't just put my head down and try to get things done anymore; I live in the moment and enjoy the people around me. I have more confidence in my ability to take on school challenges and that has allowed me to enjoy what I'm studying instead of just studying to get an 'A'."
What advice do you have for future students at the School of Public Health?
"Take time to study for your classes and make sure you sign up to get involved with a student organization. In my classes I may only see people for one semester, but organizations are where you'll find your close friends who you relate with because of a common interest. You're never going to get the chance again to be around this many students and peers where you can find a niche to fit in."