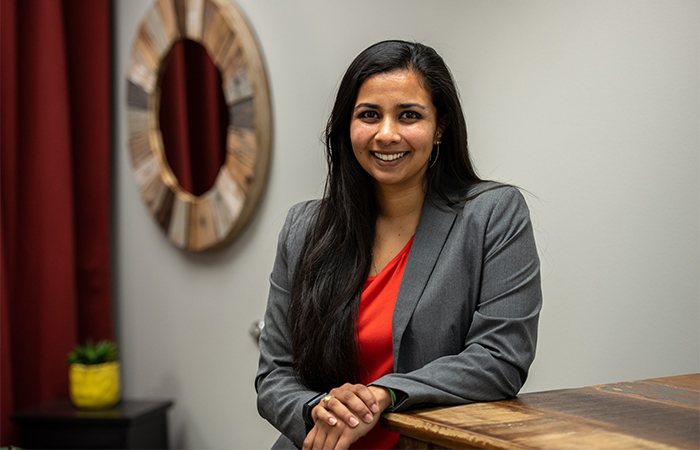 About Pavani
Master of Public Health
Occupational Health & Safety
---
Hometown: Denver, CO
Class: 2020
Undergraduate Major: Biochemistry and Genetics
Professional Interests: Occupational Health and Safety
Campus Involvement: American Society of Safety Professionals (ASSP), Environmental Sustainability Group (ESG)
Why did you choose Texas A&M Public Health?
I always thought I would attend medical school, but after working at a hospital as an emergency room scribe, I realized I wanted a job that focused more on preventing people from getting sick. I knew the School of Public Health was an outstanding institution that would provide me with the necessary skills to help others in this manner.
I served as social chair for the Environmental Sustainability Group which strives to educate students and the surrounding community on new ways to reduce our global footprint. I also served as the president of the Texas A&M student section of the American Society of Safety Professionals. The goal of this organization is to connect current students with other occupational safety and health professionals around the country and support education, advocacy, and standards development for the occupational and health safety profession. It was also a great way to learn about how health and safety play a major role in various companies and how to apply skills we learned within different industries. These organizations enabled me to meet so many amazing people and secure opportunities for my future.
The curriculum prepared me well to be an environmental health and safety specialist. The skills I learned in my OSHA and industrial hygiene classes were very helpful during my internship with ISN, a contractor management company, where I helped update their environmental, health, and safety documents. I was able to contribute to a team of individuals and learn more about what programs should include in order to follow OSHA regulations.
As a safety professional with Koch Industries I was in a Rotational EHS Professional Program. I was very excited to be part of a company that is not only well-known, but also provides a great deal of employee training. I have no doubt the education I received at the school laid the groundwork to help me succeed in my professional career.
Currently, I am a safety specialist at Flint Hills Resources in Corpus Christi, Texas.