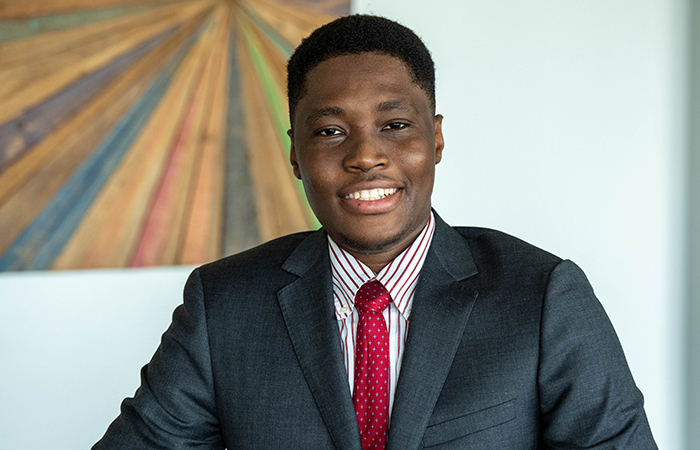 Wisdom Osisioma '21
Dentist
What drew you to Texas A&M's MPH in Environmental Health?
"I completed my undergraduate degree in dentistry in Nigeria and when I decided to pursue graduate school, I was very particular about the schools I applied to. What stands out to me about A&M is the curriculum is designed in such a way that you are not just obtaining a master's degree, you are getting trained to be a public health leader. Being completely new to the U.S., the strong Aggie Network was also very critical in my decision. With the connections I have made come so many opportunities and avenues to pursue professional relationships."
What has your experience been like in the program?
"It has been fulfilling as well as enlightening because I have been able to learn in the classroom, and also work in research positions with faculty. I have been exposed to the core principles of how to ask research questions. The School of Public Health also does a lot of outreach and volunteering that give students opportunities to get involved. There is an event happening almost every month and in getting involved, you gain public health skills when it comes to working with communities. The faculty and staff are very supportive and are there to help guide you to reach your potential. The classes are tailored in such a way that you get lots of hands-on experience and at the end of the program, you just know that you've been prepared well to be a public health professional."

How well do you feel the MPH program has prepared you for post-graduation life?
"My education has been so pragmatic that when I was searching for jobs, the interviews I did just seemed so easy. At the end of my first or second semester I secured a job. Following graduation, I am excited to begin my career working for Amazon in Washington, D.C., as an Environmental Health and Safety Specialist. The program has prepared me for what to expect in the field, helped me develop leadership skills, taught me how to communicate well, and has set me and others up for success."

What level of support have you receive from the program during your time as a graduate student?
"Advising is very organized and there are elective courses that are flexible so you can get what you want out of the program. As far as faculty, I was fortunate to work with Dr. Itza Mendoza over the course of my program, and she is an excellent researcher. She really went the extra mile to make resources available to ensure I understood the concepts of the research we were doing. I also worked with Dr. Mark Benden, and he has almost been like a father figure to me. I don't really know how to describe him other than he is always helpful and listens to the needs of students whether it be academic or personal."
What has changed for you personally and professionally since starting the program?
"I've become a better critical thinker and I've learned to work in groups and work on my interpersonal relationships. Most of all, I have improved my communication skills and the School of Public Health has helped me get acquainted with the U.S. society and health care systems. I really know how to not only be a leader, but also a good follower."
What advice do you have for international students considering the School of Public Health?
"For international students it's always harder to reach out because you don't know most people and there may be a language barrier. I want international students to know if you don't reach out for help, nobody is going to know what your needs are. If you need some special attention, utilize office hours and get to know your TA's. It might seem scary but maximize your resources and start building a network with faculty and your peers. The Aggie Network is really here for you and it's no joke."