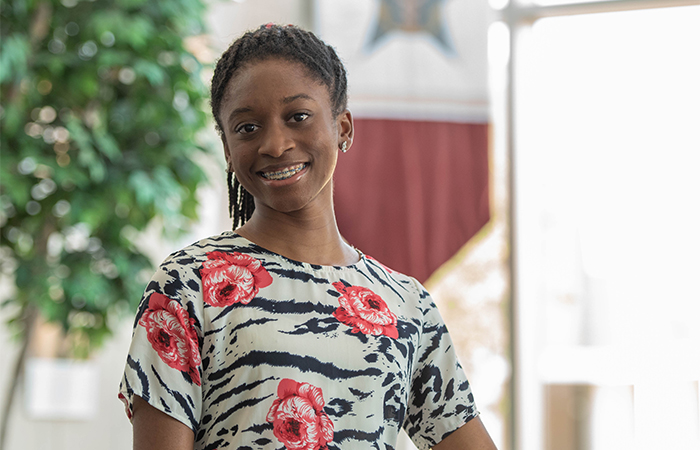 Kem Nwadei '23
Why did you choose Texas A&M's School of Public Health? 
"I chose the BSPH program because I thought it would be really interesting to learn how to keep communities healthy, treat diseases, and promote good health practices. Once I started taking classes, I realized that public health is broader in scope than I thought. I really like how I'm being taught how to keep communities safe in so many ways, from everyday things like traffic safety and building plans, to safety exits."
What has your experience been like in the program?
"It's been a great experience! I love public health because everything we learn is applicable to everyday life. The professors are definitely a highlight as well because they're so passionate about the subject matter they teach, which makes students so much more engaged in learning the material."
How do you feel this program has helped prepare you for a post-grad career?
"The school does a great job touching on so many avenues of public health. Our professors cover a broad area of different opportunities for public health students but also go into specifics which is very helpful. I have such a more holistic view about everything that health is."
What level of support have you received while in your program?
"So many of my professors have made efforts to encourage and support me as a student. I immediately think of Dr. Don Curtis, who always shares resources and encouragement with us. As students, our number one supporters are really the professors."
What do you think of the coursework?
"My classes have covered a lot of different topics. My favorite topic I have learned about has been sleep health. I also appreciate that professors implement COVID-19 into our classes as an example. We hear about COVID-19 all over the news and in our lives, so to get to dive deeper has been beneficial."
What has been your favorite thing about the program?
"The Broad Street program was a highlight of my time in college. We had many guest lecturers speak on a variety of interesting topics, and the program also gave me a great foundation and a community on campus my first year that I still keep in contact with."
What advice would you give to someone looking into A&M's School of Public Health?
"I would definitely recommend that students take advantage of office hours. During class I would take notes and any time I had trouble understanding something, I would write a question in the margins. With those questions, I would go to office hours and discuss them with my professor, which really helped me understand the content better. Another piece of advice I would give is to join and utilize study groups. In groups you get to discuss the material you learn just like you would be able to in office hours. I also encourage students to review your exams if possible. Final exams are often cumulative, so definitely make sure you understand what is on an exam before you move on to new topics."