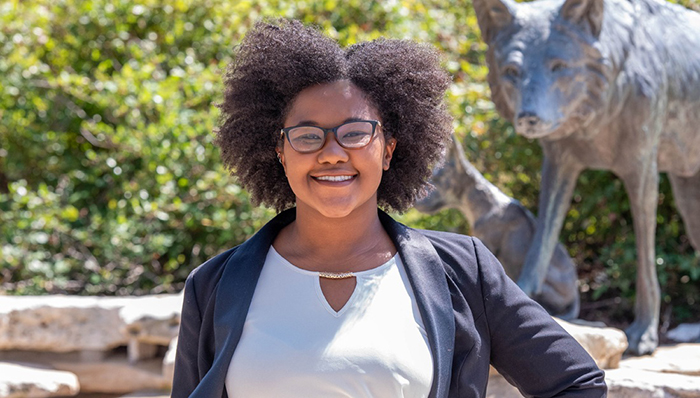 FINDING PASSION AND PURPOSE IN DISASTER EPIDEMIOLOGY
Texas A&M doctoral student TyKeara Mims, a Bill Anderson Fund fellow, looks to make a difference
During the last semester of her undergraduate career at Spelman College, where she was working toward a degree in history, TyKeara Kims had a chance encounter with a public health professional.
While discussing Mim's future, this person shed light on what public health entailed and what she could do with a degree in the field. It didn't take much convincing for Mims, who was already interested in pursuing medicine, to change course.
"She explained to me the big difference I could make and how I could have significant impact on communities in comparison to direct patient care," Mims said. "I immediately knew that was a field that I needed to go into and that it was a wonderful opportunity that would get me away from some of the physics and organic chemistry classes that were stressing me out at the time. I was sure that this was the path for me."
Mims set out to get a master's in community health education at the University of Tennessee. While working toward her master's, a professor from the Texas A&M University School of Public Health was a guest lecturer in one of her classes.
The lecturer spoke about disaster epidemiology, the use of traditional epidemiologic tools and methods to assess the short- and long-term adverse health effects of disasters and emergencies, and predicting consequences of future disasters.
Again, Mims said she instantly fell in love with the subject and knew it was something she needed to pursue. Upon completion of her master's, Mims served as a Commissioner's Fellow with the Tennessee Department of Health for two years before enrolling at Texas A&M to begin her journey to a doctorate, which she anticipates completing in 2024.
Mims was recently selected as a fellow in the current cohort of the Bill Anderson Fund (BAF), which was founded in 2014 by Norma Anderson. The mission and vision of the BAF is to expand the number of historically underrepresented professionals in the fields of disaster and hazard research and practice so that the diversity of the hazard and disaster field is reflective of American society.
The BAF Fellows are a diverse group of individuals working on completing graduate degrees in more than 30 disciplines from nearly 20 institutions which will position them to become tomorrow's leaders in the fields of hazard and disaster mitigation, research, emergency management and practice.
Texas A&M is one of the satellite campuses of the BAF. Benika Dixon, — who was recently appointed a visiting assistant professor at Texas A&M and was named the School of Public Health's first Accountability Climate, Equity, and Scholarship (ACES) Fellow — is a founding fellow of BAF.
"It is a fellows-run organization," Mims said. "The fellows are the ones who are on the committees and we are the ones who are making sure the organization is functioning and is expanding. We have students from Texas A&M from architecture and sociology. We are expansive across the university."
BAF recently held its Spring Disaster Workshop. While the event was forced to move to a virtual platform, Texas A&M was the lead university on the event and served as the host. The workshop included presentations from fellows on their research as well as external speakers on different disaster topics.
"To have A&M be the lead on this was amazing," Mims said. "To have this happen as soon as I became a fellow of BAF, what are the odds? It means a lot to be part of this organization and to have had the event happen here at Texas A&M."