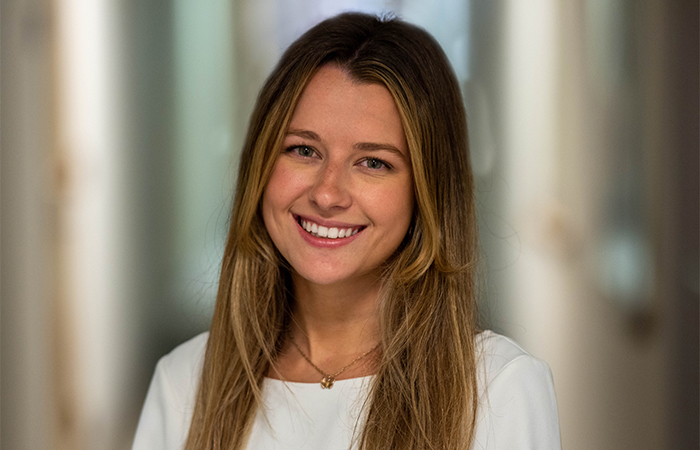 Emily Mills '22

Why did you choose the Texas A&M School of Public Health?
"Initially I really wanted to go into nursing. I came to Aggieland Saturday my senior year of high school and met Dr. Don Curtis, who is the Assistant Dean of Undergraduate Studies. He told me about the Broad Street program, which is a freshman honors learning program. I got to talk with some of the students and learn about their annual trip. I was also invited to attend one of Dr. Curtis' lectures and realized that I could go into nursing from public health. I changed my mind about nursing school as I began to realize my passion for public health. I now plan to pursue a master's degree in health care law, policy and management. After that I'd like to work for a city or state health department. I'm looking forward to seeing where the rest of my public health journey takes me!"
What has your experience been like with A&M's School of Public Health?
"It's been really good the whole time. I really enjoyed my first class freshman year with Dr. Jennifer Griffith. I remember her saying 'public health isn't everything, it is absolutely everything'. That really stuck with me, because then I started to see it in everything that I did, even in the little things of life."
"All of the professors are awesome and it's a small enough program where you actually get to know them — that's what I really love about the major. I've always been able to get in to see my advisors. I was in Dr. Curtis's freshman honors class, and he opened up a lot of doors for me. It's been a great experience so far and it's one I think has been a little different compared to my friends in larger majors. I feel fortunate to get to talk to my professors a great deal, and to know so many of my classmates."
What do you think of your coursework?
Classes have been really good! The class size isn't huge compared to your core classes, which is really nice because bigger classes can be kind of overwhelming. I've never really had problems with group projects in my public health classes because you know the people in the major and you know they're going to work hard. I started realizing my sophomore year just how real-life everything is that we learn, which is really cool because not everyone gets to see the real-world application of their major."
How well-prepared do you feel for post-undergrad life?
"I feel quite prepared to work with other people. We've had these group projects in class that have prepared us for future roles and responsibilities. I didn't really know what public health was when I came to A&M; I thought it was just a pathway to nursing. The more I learned about public health, the more I realized it is everything and everywhere that you look."
Looking back at your freshman self, how do you think that you've changed personally?
"I've definitely gotten a lot better with balancing things in life. Everyone comes to college and says you're really going to have to study, and you don't really know what that means until you learn it the hard way. It's taken hard work, but I got the help I needed from professors and my friends and ended up doing well. I enjoy my studying now because I'm not so stressed about it and I'm better with time management. I've also realized that although school is great, it's not the end of the world if you mess up. Everyone struggles to some degree and it's good to ask for help."
What advice do you have for future students at the School of Public Health?
"I would definitely encourage others to major in public health. I would also tell people to start looking for opportunities to get more experience as an undergraduate like volunteering, helping with research, or internships. Just really try to gain some experience and I feel like you will benefit."