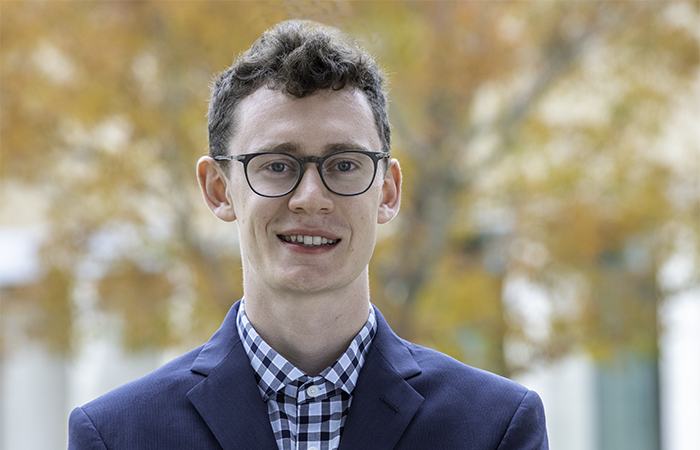 About Dylan
Master of Public Health
Environmental Health
---
Hometown: Lubbock, TX
Class: 2020
Undergraduate Major: Bachelor of Science in Genetics, Minor in Psychology
Professional Interests: Maternal & Child Health, Health Disparities
Campus Involvement: American Medical Student Association, Society of Toxicology, Muscular Dystrophy Association
Why did you choose Texas A&M Public Health?
I was initially drawn to Dr. Natalie Johnson's lab because of her focus on maternal and infant health. Dr. Johnson is an associate professor in the Environmental & Occupational Health Department at the school, with an extensive background in toxicology. As an aspiring pediatrician, I hope to work with young children and their parents and found studying environmental and immunotoxicology to be crucial. In addition to gaining fundamental skills required for any researcher, I have come to realize that some of the most powerful implications of our work reveal a larger narrative about social stratification and inequalities exacerbated by our environments.
Utilizing the socioecological framework to formulate experimental research has helped to broaden my medical aspirations. I have long been interested in blending the concepts of scientific inquiry with care, but I had not considered the role of toxicology and public health in the clinic. I plan to stay attune to the developmental challenges my young patients may face by actively engaging in translational toxicology research.
My research focuses is on sulforaphane, a compound commonly found in vegetables. With the help of Dr. Johnson, I discovered that sulforaphane can be administered as a drug to improve the immune systems of babies during their development in the uterus. I received the Pfizer Society of Toxicology Undergraduate Travel award, which provided me with a full stipend to attend and present my research in California. This is just one example of how the school has given me the tools necessary to fully explore my interests. And I have no doubt that my time here will continue to have an enduring impact on disposition and focus throughout medical school and as a practicing physician.