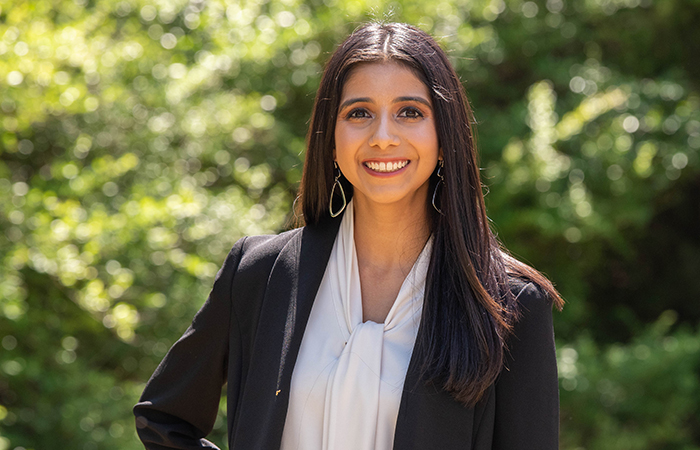 About Claudia
Master of Public Health
Health Policy and Management
---
Hometown: Mercedes, TX
Class: 2021
Undergraduate Major: Health with specialization in Community Health and Preventive Services
Professional Interests: Quality Improvement and Operations
Campus Involvement: Texas A&M Public Health Student Association
Why did you choose Texas A&M Public Health?
There was a brief time during her ungraduated years when Claudia Martinez thought she wanted a career in the dental field. That thought, however, became a fleeting memory during a Public Health course.
"I fell in love with it and knew that was where I wanted to be," Martinez said. "I found what I wanted to do with my life. The reason I chose to go this route is I wanted something that really worked with the community beyond the walls of the hospital and truly made an impact,"
Martinez graduated in May 2021 with her master's degree and is currently am Administrative Fellow in the operational excellence area at Hartford Healthcare in Hartford, Connecticut.
"When I was interviewing, I asked the people how they felt about working there and they said they absolutely loved coming to work every day," Martinez said. "Working in that environment inspires them and it is definitely someplace that I want to work and it has leadership that inspires."
The fellowship, which Martinez said is very project-based, provides her the opportunity to work with different locations throughout Connecticut, giving her the chance to see how health care centers are run.
"I hope to gain some leadership and management experience," Martinez said. "I have had different jobs and now I am ready to learn to take on some more leadership and learn the skillsets that will help me in my long-term career."
Martinez selected Texas A&M University and the School of Public Health for similar reasons. Growing up the Rio Grande Valley, she knew about Texas A&M and what the university had to offer.
Searching for the right fit to advance her academic career, while also setting her up to make the transition to the working world, Martinez visited Texas A&M. It didn't take her long to determine that the Department of Health Policy and Management was the program that would help her accomplish those objectives. 
"I was looking for a program that I knew would provide me with the tools to be able to go into the workforce," Martinez said. "I felt I had a great academic knowledge base and I wanted someplace that was notable and had a lot of experienced professors and advisors and the curriculum that would help me. Everything I learned about the School of Public Health and the Health Policy and Management (MPH) program was amazing.
"The MPH program has taught me many different tools and skills that I am able to use in the real world already. They truly have a grasp on what you need to know going into the field."