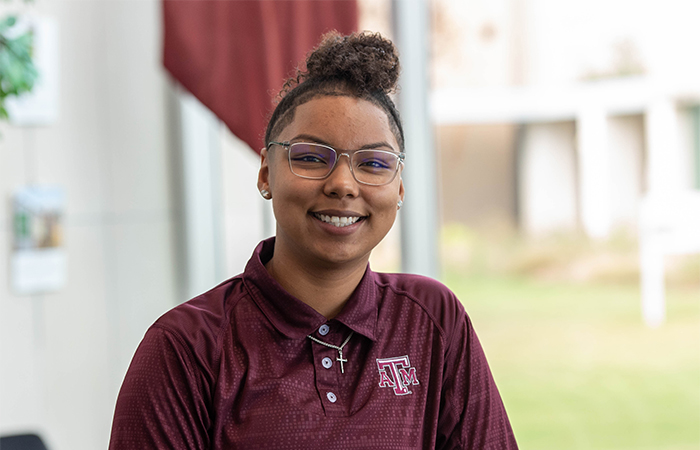 Jordan Lopez-Rhodes '22
Why did you choose Texas A&M's School of Public Health? 
"I scheduled some time with Dr. Lisako Mckyer to get more information about public health and jobs that were available in the field. She mentioned that I did not need to take the GRE and could apply to give the program a shot. It was right here at home so I thought worse case they could tell me no. I just went for it. 
What has your experience been like in the program? 
"Since we were the "COVID cohort," the interpersonal interactions lacked a bit in the beginning. Despite being online, I was able to make some forever friends and gain great mentors." 
How do you feel this program has helped you prepare you for a post-grad career? 
"The program has helped me to develop a professional mindset. The MPH program allows you to learn what a public health professional does day-to-day and what kind of opportunities exist in the real world. The program gives you the opportunity to master your craft and see where you can put these talents to work." 
What level of support have you received while in your program? 
"I received a great deal of support. Dr. Brian Colwell and Dr. Joseph Sharkey stepped in when my advisor went on maternity leave. They were both professors I had previously, so I felt comfortable asking them questions. Any questions I have had, if they didn't have the answer, they would refer me to someone who did." 
What do you think of the coursework? 
"I enjoyed the core, even though it started at 8 a.m. As we were going through the pandemic, I got to see in real-time health disparities and how minority populations are disproportionately impacted. It motivated me to absorb as much information as I could so that I can one day make a difference." 
How were you seeing public health being used in the real world? 
"I'm bi-racial. I am Mexican American and African American. My whole life I have been living this dual reality. While consuming public health information and living in my own skin as a minority, I face this dilemma - do I choose to be a public health professional or my real self? That is an interesting dynamic to live through. I've decided I can be both and use my education as a tool. Since minority populations are underrepresented, I take pride in the fact that I am learning things that I can use to help make a difference and be a voice for the black and brown community." 
How do you feel you have changed, personally or professionally since the beginning of the program? 
"Being in the program during COVID, it has been hard to not isolate myself. An opportunity to develop your own skills was lacking in the virtual sense. I had to force myself to get out of the house and take care of me so that I could perform my best in this field. I am using my identity as a tool, a niche to contribute to the public health world." 
What advice would you give someone looking into A&M's School of Public Health? 
"If we need help, there are great faculty and staff at the school who can assist or put you in touch with those who can. I have appreciated how the school has made me feel like they have my back in whatever I do. There is no reason to be ashamed to ask for help. They're all open, honest and helpful." 
What are your plans for the future? 
"After completing my practicum, I was hired part-time by the Texas Health Institute to work with transgender health in Texas. I hope this opportunity might turn into a full-time job. If not, I am applying for program management positions, as well as public health research, advocacy and outreach positions working with people of color or LGBTQ+." 
What has been your favorite thing about the program? 
"I have enjoyed learning how different people and cultures operate and how that may impact their health. I learned different theories. These theories put into perspective that there are contingent factors on people's behaviors, risky behaviors and health outcomes. I learned how we can begin to tailor different intervention approaches and health care delivery systems to adequately and effectively take care of diverse populations.
Learn more about the Health Promotion and Community Health Sciences Program