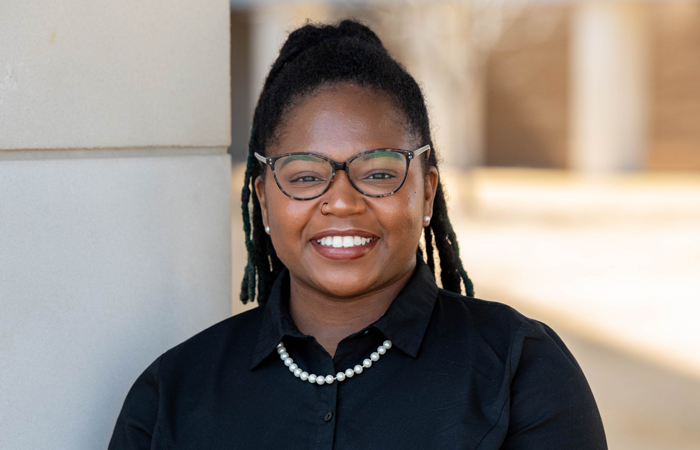 Jacquita Johnson '22
Why did you choose Texas A&M's School of Public Health?  
"I liked the size of the department. There are also renowned faculty here, and I knew I would be able to receive the training in public health that I desired. Having the ability to learn under these professors has given me a competitive edge. I also love that there are many student organizations to be a part of that could help me become a well-rounded student and professional. The opportunity to participate in the Albert Schweitzer Fellowship has been a rewarding experience."  
What has your experience been like in the program?  
"I love it. I took time after undergrad to serve as a volunteer in the Peace Corps for two years. That gave me a practical public health experience and now I can relate what I am learning and apply it to that experience. The professors are helpful, and I feel supported here."  
How do you feel this program has helped you prepare for a post-grad career?  
"The School of Public Health has given me skills in areas that I knew I wasn't as strong in and that has been a blessing. I'm now able to better construct and support my arguments for targeted and tailored health interventions AND create said interventions using evidence."  
What level of support have you received while in your program?  
"What support have I not received would be an easier question to ask. I have found mentors and professors who have invested in my success. I've received scholarships, letters of recommendation and I feel so supported in many areas. Professors have been receptive to students advocating for their needs. They really care about our mental health." 
What do you think of the coursework?  
"I genuinely love all of my coursework. I love to read and learn, so I can see the importance in each of my classes."  
How do you feel you have changed, personally or professionally since the beginning of the program?  
"I am sharper now than I was before. I can better frame my arguments and I can use evidence to support my claims. I follow the science and better understand the methods and charts on scholarly articles about what is being said. This will help me in my career as I am able to identify gaps in systems and be able to create actual solutions to correct or fill whatever these gaps may be."  
What advice would you give someone looking into A&M's School of Public Health?  
"I recommend students seek out professors who may be doing similar work to what you want to do because they are so personable. Reach out to alumni as well. That's what I did during my application process, and they really sold A&M to me. Go after whatever opportunities you know you need to become the professional you want to be. You cannot wait for the opportunities to come to you."  
What are your plans for the future?  
"I applied to the doctoral program here at Texas A&M. I desire to strengthen and diversify my skill set and I would love to be a professor one day because I love to conduct research."  
 What has been your favorite thing about the program?  
"I call my cohort the COVID-19 cohort. At the point in time when we started in the program, we couldn't get that personal interaction to build relationships. As time went on, we realized we needed each other's support, so we met up with each other. The other students in my cohort have been a solid source of support and have been the best part of being at the School of Public Health."