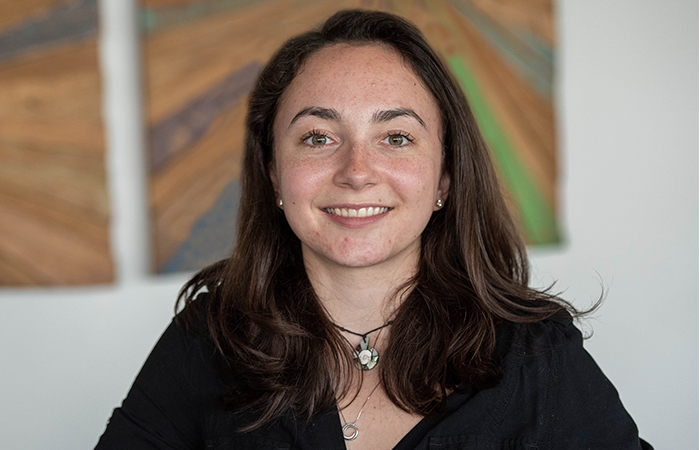 Jocelyn Hunyadi '22
Biostatistics

Why did you choose Texas A&M's School of Public Health?
"I really like the campus and the small group of grad students who I've developed a community with. It's something that is really unique because I have the benefits of this smaller community, but the resources of a large university. I think the biggest reason I was drawn to this program is because the practicum experience gives you the chance to explore more aspects of public health within your concentration. I've really enjoyed getting real-life experience in public health."
What has your experience been like in the program?
"It's been very interesting because I started the program during the height of the COVID-19 pandemic, so everything was virtual. The staff and professors at the School of Public Health handled everything really well. Professors found ways to make sure students were involved and they took advantage of the technological things they had access to. I've had very positive experiences interacting with my peers and professors from different backgrounds and concentrations in public health."
How do you feel this program has helped prepare you for a post-grad career?
"This program has helped me realize what public health really is because I had a vague notion coming in. My practicum experience has been illuminating in that it helped give me the confidence that I can find a career without having to sacrifice my interests."
What level of support have you received while in your program?
"I've had a great deal of help any time I've hit roadblocks, and my professors have been easy to reach. The first professor I think of is Dr. Rick Danko, my small group professor for the MPH core. Dr. Danko is a very charismatic and interesting professor with a great deal of insight and feedback to give, so I really appreciated having him as an introductory professor to public health. Everyone involved in the School of Public Health is very supportive and cooperative."
What do you think of the coursework?
"In my undergrad I had no exposure to public health. For me, the MPH core was incredibly important because it lays a foundation for how public health operates. We get to talk to many professors from different backgrounds so we begin to understand all of the public health concentrations. My favorite aspect is that they teach you that health goes beyond just preventing diseases and includes promoting healthy behaviors and good health outcomes. I think that has been a huge pillar for me because we all have the image of epidemiologists in a lab in our heads but health promotion and prompting behaviors is also really important."
What has been your favorite thing about the program?
"The people are amazing and there are so many opportunities to work with students from different concentrations than your own. I've had chances to interact with people, and we talk about what we're learning in our classes. We are learning from each other as we share insights and come up with thoughts on how to address public health issues in a broader way."
What advice would you give to someone looking into A&M's School of Public Health?
"Keep in mind that you don't need to know everything going into the program. I suffered from imposter syndrome coming in because I knew the bare minimum about public health, but the professors know we aren't experts. They help you build a foundation and support you, so it will be easier for you to approach the program with confidence."
What are your plans for the future?
"My hope this semester is to explore possible career options in more detail. I hope to be able to use my skills in data analysis and visualization to further research and promote health programs or initiatives that focus on improving women's health, physical health and fitness, and mental health, particularly in vulnerable populations. My time in this program has definitely helped me realize that, in the future, I hope to be involved in the research and promotion aspects of public health."