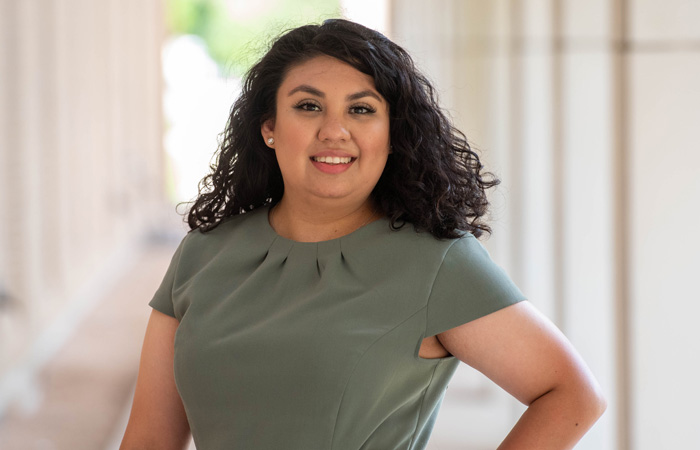 Ruby Hernandez '22
Environmental Health
Why did you choose Texas A&M's School of Public Health? 
"I did my undergrad at Texas A&M. I was asked a question one day in one of my classes about what was next for me. It made me really think. Initially, I wanted to get my nursing certification and work in an ER; I still do, but what about after that? I realized I am extremely passionate about working in communities and did not want to limit myself to working in a hospital. As my undergrad career progressed, I found the School of Public Health's MPH program and realized that it offered great opportunities. Being in the Environmental Health Department, I found I could be a voice in the community and be able to take action leading towards positive change."
What has your experience been like in the program?
"At the school, you not only learn from a book, but you also learn from personal-professional experiences. The professors are heavily involved in the communities they work with, often creating a huge impact on their health. Faculty and staff here have amazing projects going on and are well-known not only across Texas but nationwide, and some even internationally. Having access to professors who are open-minded, are students of life, and care about our futures is what makes this program so great."
How do you feel this program has helped prepare you for a post-grad career?
"It has exceeded my expectations in every way. My learning is not just based on lectures and classwork; it is from real-world experiences like projects, publications and fieldwork. Whenever we are not doing fieldwork, we are expected to be up-to-date with current events, participating in great classroom discussions, and usually volunteering with the countless organizations around SPH, the university and our community. The opportunities at School of Public Health are remarkable."
What level of support have you received while in your program? 
"The first couple of months starting my program, I did not have health insurance. Financially, I was struggling. The entire Environmental Health Department worked to help me solve this issue, and the Student Affairs Office gave me the resources that allowed me to comfortably get insurance. Everybody was so helpful to me; it really made the point that my mentors and professors cared. Since then, I have been able to find employment, get involved and work toward completing my MPH."
What do you think of the coursework?
"I really like how our classwork is discussion-based, real-life scenarios of situations that can happen in the field. Our professors are great at rotating scenarios through multiple public health careers to touch on all students' interests. Also, having to do large projects, capstones and presentations helps us learn to move out of our comfort zones. All this makes classes pretty unique at the School of Public Health."
What has been your favorite thing about the program?
"The faculty are simply outstanding. They look at all of us as the new generation of public health professionals that will take care of our communities in the coming years. I like to think of it as if we are all seeds; they come in every day and water us and give us sunlight, so we're able to grow. We have really learned to embrace the chaos, especially with COVID-19, and use even bad situations to our advantage."
What advice would you give to someone looking into A&M's School of Public Health?
"Keep an open mind and definitely get to know your professors, even if they are outside of your department. Also, be open to what your classmates say, especially if they are challenging your ideas because it will help you grow."
What are your plans?
"I want to help marginalized communities, those who are often overlooked, and who do not have a voice, and have learned so much working with Dr. Garett Sansom. I have learned so much from him, my mentors, and the Texas A&M Superfund. If the future permits, I would like to keep working with environmental health, helping communities in need, and taking care of our environment. I look forward to my next adventures. As Dr. Angela Clendenin, one of our professors says, 'You are going to change the world one day.'"