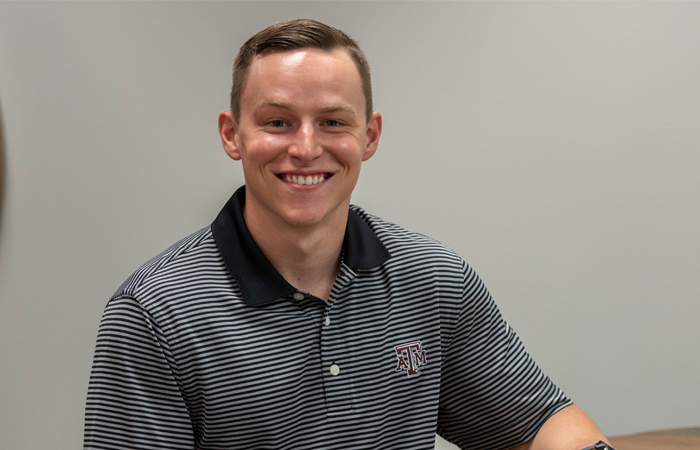 Brett Harp '21
Safety Engineer, Mortenson Construction
Why did you choose Texas A&M's MPH in Occupational Health and Safety Program?
"I grew up in College Station. My best friend as a child and still to this day is our department head, Dr. Mark Benden's, son Luke. After I graduated from Texas State with my Bachelor's in Health Care Administration, I was unsure about my next steps. I had a conversation one day with Dr. Benden and he set up an interview with himself and the Director of the MHA program. The deciding factor for me was the variety of professional career paths I could take with not only this degree, but the network provided with A&M. My undergraduate degree was pretty strictly going to involve hospital administration; this program allowed me more flexibility to pursue a variety of avenues." 
What was your experience like in the program?
"I was fortunate to obtain a Graduate Research Assistant position. Through this role, I got to assist with projects by helping with the groundwork of research. I was exposed to technical writing and the nitty gritty of digging up sources for specific areas of interest. The experience taught me much about research. In the classroom, I had access to the amazing professors and their common quips of wisdom. I spent about 20 hours a week in the faculty offices because of my GA position. I learned from their experiences and getting to work directly with them. I got to take part in a study, as well. Dr. Benden was the primary investigator and Dr. Rhee was the lead assistant professor. I got to reach out to participants, help design the documentation for IRB approval, and complete other administrative tasks as well. We finished data collection early Spring '21 after a COVID-caused delay and ended up completing and presenting a poster on the project. It was a great experience being able to translate what we learned in the classroom to real-world practice. The faculty and classroom projects teach you not just what to do, but how to actually accomplish those things while you're working. They help you develop a scope for what occupational safety is."
How did the MPH program prepare and/or enhance your career?
"The program enhanced my network through the professors and their experience in the industry. The program provided mock interviews, resume reviews, and workshops on how to develop a solid elevator speech. The required internship prepared me for the professional world of occupational safety. I learned how best to approach recruiters and goal set five core competencies through a developed work plan."
What level of support did you receive from the program during your time as a graduate student?
"My personal relationship with Dr. Benden was a blessing. He was almost always available and if he wasn't, he was great about letting you know when he would be. Martha Parker was a great resource, too, and always eager to help. Dr. Rhee was very supportive throughout the study we worked on together. He helped me contact participants, understand the technology, and understand how to conduct the experiment without him in the room."
What did you think of your MPH courses and competencies?
"The core classes were extremely helpful for a student like me who came from a different discipline. It's essentially an overview of public health without concentrating on your specific degree plan. Prior to the program, I had zero exposure to epidemiology, biostatistics, public health initiatives, etc. I got to take electives, too, that I really enjoyed. My first semester I took an OSHA class where the OSHA Handbook was the actual course textbook! It was super helpful because that's what you'll actually use in the field. We got a great deal of exposure to environmental and individual health risks regarding toxicology; it helps you understand the hazards that affect the environment and pathways through which chemicals can affect humans. It broadened my view on how I thought about public health. I took electives in Fire Safety and Hazardous Waste Operations and Emergency Response. Overall, the range of classes teach you there are many different avenues to safety. It's not just about how to set up and design the workplace to reduce the likelihood of bad things happening."
What did you like most about the program?
"It was really rewarding to see the work I've done in the classroom actually pay off. Being able to go to a company and say "I know about these things and I can help in these ways" is a great feeling. Within our field, Safety Professional certification exams are required that take lots of time and money to complete. The program lets you graduate as a Graduate Safety Professional, which is great because it gives you a jumpstart with the professional certifications you will need in the field."
How did it feel to win the CNA student of the year award? Has this award opened any new doorways for you in your career or academia?
"When I first got involved in the study, I thought it was cool exposure, but I didn't think anything would really come out of it for me besides having a great experience. It was super rewarding that all the time spent in the lab and reading papers paid off. It also opened doors for my own personal knowledge and exposed me to niches in occupational safety I didn't know about before. Although we didn't get to attend the award experience in person, the recognition itself was awesome."
What type of view do you see when it comes to health?
"I learned through my research and internship that safety doesn't end at the job. Behavior outside the worksite has direct impact on performance. Aspects like diet, hydration, and relationships outside the scope of the workplace definitely have an impact on physical and mental well-being. For example, I interned at a company located in a really small town that employed a lot of people at this work site. If something went wrong in their life, their coworkers were often going to be the people to help them get through it. The whole person, including emotional and spiritual well-being, matters with respect to their safety and health. All of these things tie into behavior and especially into being risk adverse."
What has changed for you personally and professionally?
"I went from being really unsure about my next steps to having a pretty good idea of what my career is going to and can look like. I'm happy about it and looking forward to being in a rewarding field. Every day I have the opportunity to impact someone, whether large or small, positively. I also don't feel as much like a deer in the headlights; I'm confident in the things I've learned from my professors."
What recommendations do you have for future students?
"Get close to at least one professor (hopefully more). If you can have one faculty member in your corner, it helps not only academically but personally. Developing a professional "friendship" creates great mentors and resources to get through the difficult moments of the semester. I went on my bachelor party this past March (I'm getting married in June) and I was able to have an open and honest conversation with my professor about missing a test. We discussed what I could do so they were satisfied and I'm not cheating the system to get this done. Since we already had a working channel of communication, they were willing to be flexible and understanding of my commitments outside of school."