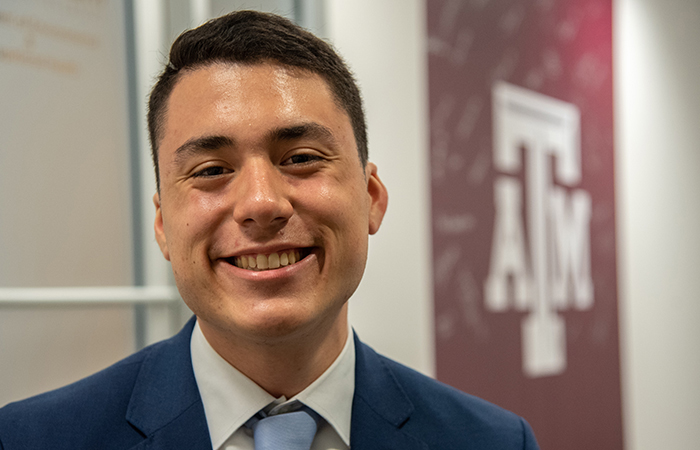 About Sebastian
Minor in Public Health
Public Health Studies
---
Hometown: Amarillo, TX
Class: 2020
Undergraduate Major:
Professional Interests: The pharmaceutical industry
Campus Involvement: Fish Camp, MSC ALOT, Student Affairs Financial Advisory Board, Muster Host
Why did you choose Texas A&M Public Health?
As a genetics major minoring in public health, I enjoy the school because of the well-rounded curriculum it provides students and the research opportunities I can get involved in that compliment my field of interest.  
Throughout my life, I have always wanted to tackle issues of health disparities. Currently, I am working on a project in my hometown that compares the prices of certain household goods in low socioeconomic (SES) neighborhoods to those same goods in high SES neighborhoods. The School of Public Health is a place where I can learn how to write effective policy papers and conduct well-rounded research to tackle these issues. 
I served as a lab intern in Austin, Texas, where I assisted with analytical chemistry projects. I also currently serve as an undergraduate researcher in the Andersson Lab, where I extract DNA from exotic cat species to be used as a reference for analyzing cancerous DNA. While these fields are deeply rooted in genetics, a minor in public health has provided me with the skillset to understand and conduct research and navigate through complex health concepts.
I am currently a graduate assistant at the University of Maryland School of Public Health.
I plan to pursue a master's degree in public policy with a concentration in public health to learn more about how to impact regulatory affairs in the pharmaceutical industry. I want to bridge the gap between the marketing, clinical trial and other departments within pharmaceutical companies to ensure products are truly helping consumers. With the support and well-rounded expertise of the professors from the school, I am ready to bring my background in genetics and public health to my future career.