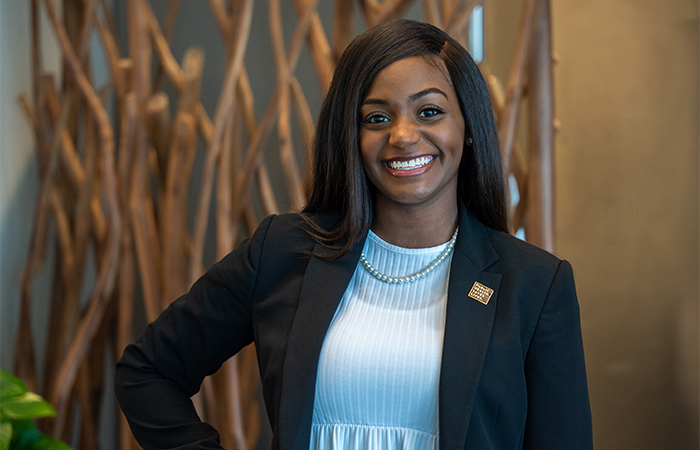 About Tyra
Master of Public Health
Epidemiology and Biostatistics
---
Hometown: Lufkin, TX
Class: 2021
Undergraduate Major: Public Health
Professional Interests: Data analytics, minority health, mental health, maternal health, women's health
Campus Involvement: Maternal & Child Health Organization, Global One Health Student Association
Why did you choose Texas A&M Public Health?
I took one public health class during my sophomore year at Texas A&M and immediately fell in love with the field. The MPH core curriculum provides students with the proper skillset to tackle a broad range of health issues. I appreciate the challenging curriculum because it forces students outside of their comfort zone and exposes them to research from world-renowned faculty.
I received a scholarship from the Maternal and Child Health Organization at the school that allowed me to continue my passion for raising awareness of high maternal mortality rates among black women. My studies at the School of Public Health have helped prepare me to make informative presentations for women across campus on this important topic. I also planned a disease outbreak simulation for the Student One Health Association, where I was responsible for creating an emerging disease outbreak scenario for students to solve. Once again, the knowledge I learned in my classes at the school of public health helped me tremendously. 
The faculty and staff at the School of Public Health are so supportive of student's goals and aspirations. During my first day of class, my epidemiology professor approached me to have a one-on-one conversation about my career goals, which is just one example that makes the School of Public Health stand out from other colleges.
I have grown so much as a person and young professional here at Texas A&M. After graduation, I want to pursue a career that allows me to apply the data analytical skills and epidemiological methods I have learned to make a positive impact on the lives of many.