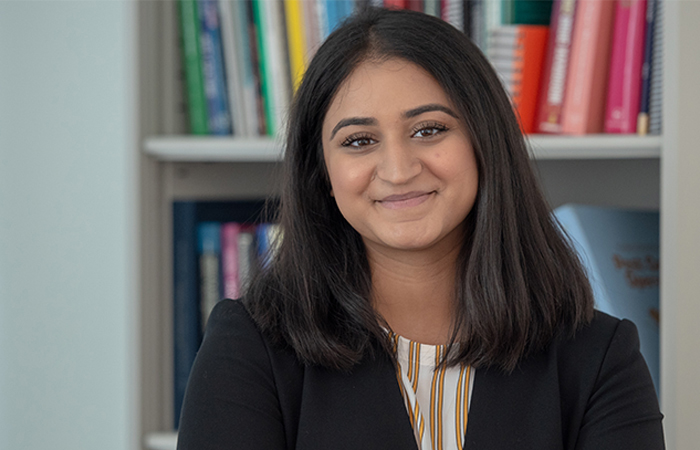 About Minaal
Bachelor of Science in Public Health
Public Health Studies
---
Hometown: Flower Mound, TX
Class: 2020
Undergraduate Major:
Professional Interests: Global Health, humanitarian policy, public policy
Campus Involvement: Broad Street Society, MSC Freshman Leader International, Innovation X research project, Opioid Task Force Ambassador
Why did you choose Texas A&M Public Health?
When I traveled to Pakistan to visit my family, I witnessed poor sanitation and improper public health practices that contributed to the growing humanitarian crisis of people living in this country. I also noticed the unequal access to healthcare and education that also had a detrimental effect on the health of the community. Seeing how this affected a place close to my family, it encouraged me to get more involved in fighting for positive public health changes around the world.
As a member of the Broad Street Society, I have been able to turn my passion into policy papers that examine these public health issues. In this organization, we are afforded the opportunity to listen to guest lectures from professors of various discipline. In my freshman year, we traveled to Vienna, Austria to learn about the history of public health issues in this city. I also wrote a policy essay about the Syrian refugee crisis which prepared me for my next opportunity.
"Earlier this year, I interned through the PPIP program for the Office of Global Affairs, at the U.S. Department of Health and Human Services in Washington, D.C. focusing on issues related to global health policy and diplomacy. I was afforded this experience because of the skills I gained as a member of the Broad Street Society."
I really enjoyed the School of Public Health because of the close-knit community, especially for undergraduates, which allows students to develop lasting relationships with their peers and faculty. Because of the amazing experiences at Texas A&M University, it has inspired me to chase after a successful career in Public Health.
I am currently an outcome data coordinator at PlatformQ Health.