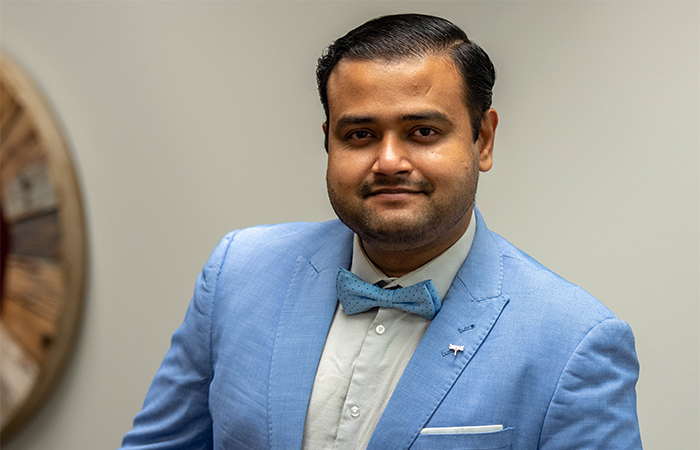 Gogoal Falia '25
Why did you choose Texas A&M's School of Public Health?  
"Dr. Alva Ferdinand specializes in rural health which is one of my professional interests. Her research at the Southwest Rural Health Research Center has produced pivotal work in the field of rural health across Texas and the United States. The reputation of A&M as an R1 university also drew me in."
What has your experience been like in the program? 
"I would describe it as rigorous but a rewarding experience. There has been a lot of active learning. I enjoy the opportunities for students to participate in discussions and share opinions. I have been complimented on the work I have done and at the same time, have been advised on how I can do better."
How do you feel this program has helped you prepare for a post-grad career? 
"There are a few factors that I think help me. The first is the network. Aggies are everywhere and they have your back. Also, the support you get from the faculty here is unparalleled."
What level of support have you received while in your program? 
"A generous amount. As an international student, I have never felt different or foreign. I have always felt welcomed. I have the same opportunities as any other student in the program. As a teaching assistant, I have great instructors. They are very understanding that at times it can get hectic as a first-year doctoral student. Overall, it has been great." 
What do you think of the coursework? 
"I feel I have great ground knowledge that I can build on. From what I learned this semester, I know I can strengthen my research skills."
How do you feel you have changed, personally or professionally since the beginning of the program? 
"I have moved from an industry focus to now a research focus. I can multitask better, my data analytical skills have improved, and I have learned to ask a lot more questions now."
"There are a ton of opportunities that are available to me. In my experience with my undergrad and master's program, opportunities are available but are not always visible like they are here at A&M. The Office of Student Affairs makes sure you know where the resources are. Unless you close your eyes, you are not going to miss it." 
What advice would you give someone looking into A&M's School of Public Health? 
"If your research interests align with any professor here in the department, you should feel confident in sending in your application. I did my undergraduate program in India and my master's program in Ireland, and I can tell you by experience that the kind of support you get here is comparable to the best in the world. Further, the community here is tight knit."
What are your plans for the future? 
"My plan is to work in academia. I love teaching and it is the main reason I decided to get my PhD. From what I have learned in my seminar class with Dr. Jennifer Griffith, teaching is awesome and can be really cool. Teaching is a great opportunity to make sure the next generation has the proper knowledge. In the long-term I could see myself maybe working for the government or running for office."
What has been your favorite thing about the program? 
"The cohort. We are a small group and are nationally diverse. You do not feel different, it feels inclusive. We learn from each other and can voice our opinions with one another. It is a comfortable environment to be in. The faculty is more than helpful and is always there for you as well."
Learn more about the PhD Program