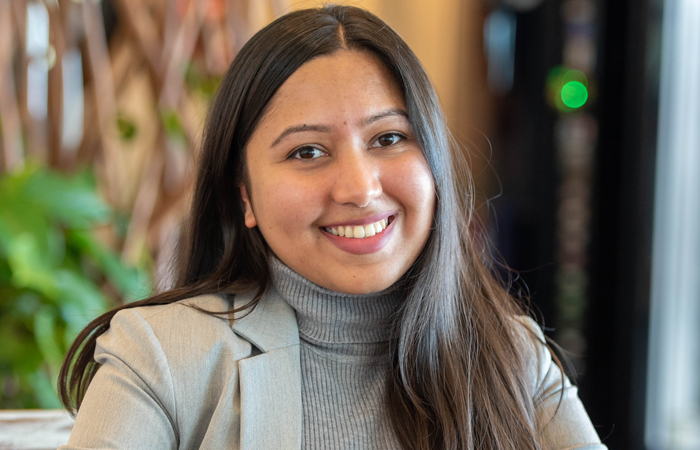 Susmita Chakraborty '25
Why did you choose Texas A&M's School of Public Health? 
"For my MPH, I chose A&M because it is a top tier public health research school. I chose this program because there were several faculty experts in health economics with similar research interests to mine. I am pursuing a PhD to continue learning more in-depth research skills and knowledge of certain topics. The U.S. healthcare system is different from other countries, and it takes time to understand it."
What has your experience been like in the program? 
"My relationship with the faculty has been great. I have worked with a few professors as a research assistant and have learned so much from them. I am blessed that  my PhD cohort is so friendly and cooperative. They are very fun, kind and are a great support system." 
How do you feel this program has helped you prepare for a post-grad career? 
I am not sure if I want to go into industry or academia, but I know I want to be a health services researcher where I can use my health economics skills to contribute to work towards more affordable healthcare." 
What level of support have you received while in your program? 
"Since I am an international student, it is not always easy to navigate through everything on campus. One of the reasons I am staying here at Texas A&M for my PhD is because the faculty are so encouraging and helpful. I feel like I know the faculty and am safe. I feel connected to them."  
What do you think of the coursework?  
"The curriculum is very well designed. I think this is what makes this program very special. In other PhD programs, the course curriculum is not as interconnected as it is here at A&M. We have many courses available to take, which is beneficial to me because of having to learn the American healthcare system." 
How do you feel you have changed, personally or professionally since the beginning of the program? 
"I have made more friends and I am happy. I was afraid that I might be lonely in my PhD program. My cohort is a special community for me and we often do things outside of class. Professionally, I have a clearer vision of what I want to do. I now know what to look for and where to look for it. Before it was just curiosity." 
What advice would you give someone looking into A&M's School of Public Health? 
 "Get involved in organizations that have leadership roles. These organizations can give you confidence. Also, connect with your professors."
What are your plans for the future? 
"Ten years down the line, I would like to work for a federal health organization such as the CDC. I hope to make an impact."
What has been your favorite thing about the program? 
"I love the teacher-student interactions. We are tight knit. The faculty have an open-door policy, which means we can go to them at any time for help."
Learn more about the PhD Program