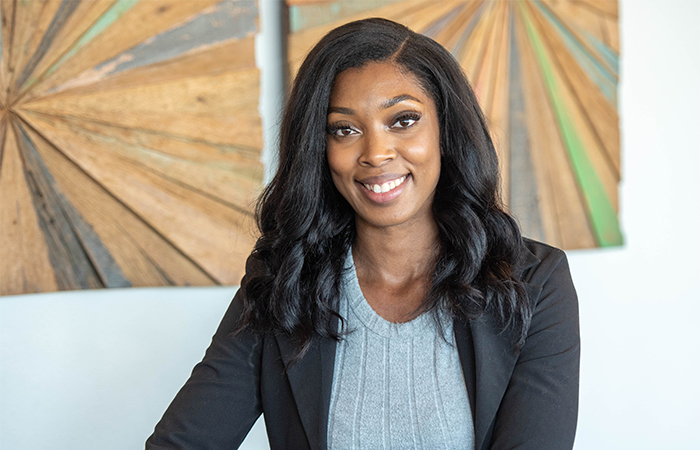 Morgan Bradley '22
Why did you choose Texas A&M's School of Public Health? 
"I have always been passionate about public health and finding avenues to address health disparities. Initially, I wanted to pursue breast cancer prevention research but quickly became drawn to addressing multiple chronic health conditions. As a now two-time Aggie after receiving my MPH, when given the opportunity to pursue a DRPH, I did not hesitate. The School of Public Health faculty were warm and inviting; I could tell they cared about their students which drew me in."
What has your experience been like in the program? 
"It has been great to meet and work with a diverse set of colleagues and students who come from different backgrounds, but all have the same mission, to address major public health issues. I have enjoyed getting to know the faculty and learning about their different research backgrounds. As a doctoral student I have enjoyed being able to mentor masters' students on their journeys as well." 
How do you feel this program has helped you prepare you for a post-grad career? 
"The program has prepared me to be a strong researcher. It has given me a lot of foundational and practical knowledge that I need to be a strong leader moving forward. My eyes have been opened to a different scope and understanding of addressing health disparities and understanding the needs of the communities that we serve." 
What level of support have you received while in your program? 
"I would have to highlight Dr. Lisako McKyer. She was influential from day one. As my advisor and chair, she helped me choose courses that she knew would help me to become a stronger professional going forward. She is also great with advising on research topics that were challenging me to become a better researcher and a better public health practitioner. I would have to highlight Dr. Jim Burdine as well. His approach to teaching is amazing and he has been a great mentor during my time here. Erin Schneider has been a great mentor in pushing me to advance professionally. She has helped with my ability to help other students as they are coming into the program." 
What do you think of the coursework? 
"The coursework is interesting and at times it can be challenging but what I take away from the coursework most is the practical and applicable pieces of it. Usually we finish each course with some type of project or finished product that we can use outside of coursework. I think the courses are geared towards truly preparing us to do actual work and not just preparing us to be able to pass the class." 
How do you feel you have changed, personally or professionally since the beginning of the program? 
"As someone who is working full-time, I feel as if I am learning on-the-job as I go. My classes relate so well to my current job position. I feel that I have advanced immensely as a leader, as a manager and as a practitioner. I have strengthened my research skills, and my ability to operate grants and procedures and make a community health impact. I can measure their impact and evaluate it going forward. I am able to better communicate public health topics at a digestible level for the community on emerging public health topics."
What advice would you give someone looking into A&M's School of Public Health? 
"My advice would be to meet and talk to as many faculty as you can and talk to as many current students or alumni to understand the path and experiences that it takes to be able to graduate from the program. Also be prepared to face challenges that will mold you into becoming a strong public health practitioner once you finish. Get excited about the idea of jumping into the realm of public health and as soon as you start as a student, you will be starting to make some type of community change and impact." 
What are your plans for the future? 
"I want to do what I am doing now, which is community health work. I want to be a faculty member to educate others and continue to pursue positions that allow me to do research at a large scale while also doing community health work." 
What has been your favorite thing about the program? 
"My favorite thing has been my cohort. We are a unique diverse group of mostly women of color, and it has been a joy to see us progress over these past few years. It has been great to work with my colleagues closely on different research projects and also hear about their different diverse backgrounds. Some of my colleagues are international students who can provide a global health perspective on topics of the day. We also leaned on each other heavily during the pandemic, creating a strong bond that will go beyond our program and expand into our professional life for years to come."