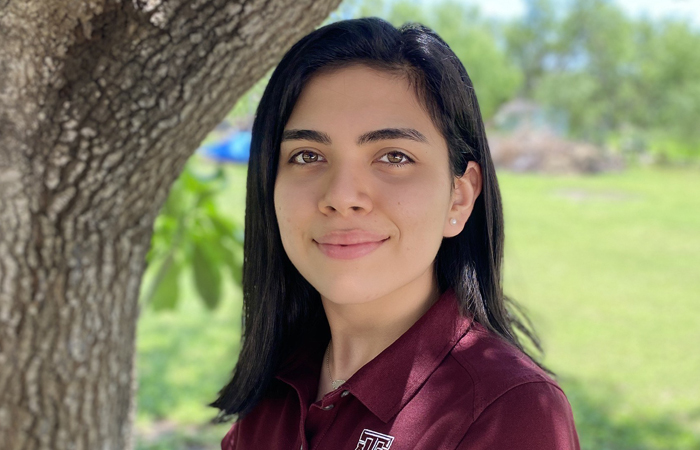 Why did you choose Texas A&M Public Health?
One of the first times I saw public health in action was when I volunteered with Operation Lonestar, an annual event that brings free health care services to communities of rural South Texas, like childhood immunizations and health screenings for diabetes and blood pressure. Other services included dental and vision care, and physical exams. In this area of the state, the poverty level is high along with health disparities. Access to health care services is limited. Some families were in line beginning at 2:00 in the morning to get health services they could not otherwise afford. I worked alongside the U.S Public Health Service, local physicians, Aggie staff and peers. This opportunity greatly impacted me and is one of the reasons I chose to pursue a Bachelor of Science in Public Health (BSPH). 
With my long-term goal always being to become a physician, I was so grateful to find this degree program that has not only prepared me well for medical school, but has taught me so much about the social determinants of health such as education, economic stability, social and community context. Pursuing a BSPH and focusing on medicine enables me to better understand the relationship between societal factors and health. The faculty go above and beyond in assisting their students. I have been mentored by Dr. Nelda Mier and Dr. Krystal Flores. Both of these professors have had a positive impact on not only my educational career, but my life and have mentored me in becoming an exceptional public health undergraduate student.
I have enjoyed serving as a peer mentor in Hullabaloo U and a student ambassador for the SPH Health and Wellness Committee. I am grateful to the SPH Health and Wellness Committee, which gave me the opportunity to be a part of Operation Lone Star. I am a highly involved member of the student body who enjoys volunteering with nonprofit organizations in my free time. I am a member of the Biomedical Sciences Association, and also an officer for the student organization Aggies All In, which focuses on community service outreach.
I am from Mission, Texas, which is a city in South Texas. In the community I was raised in, it was evident that there was limited access to health care and many families were living below the poverty line. It was not until I was becoming more knowledgeable on social determinants of health that I understood why health disparities were high in my community, especially in the surrounding Colonias. I want to give back to my community that has given me so much. With what I have learned in my degree program, I will be more capable to return the favor. I will be graduating December 2021 and my goal is to attend medical school. With my BSPH degree, I will attend medical school and pursue a career specializing in pediatric cardiology. I hope to help children in low-income communities and in the Colonias along the Texas-Mexico border who are affected by health care availability and affordability.