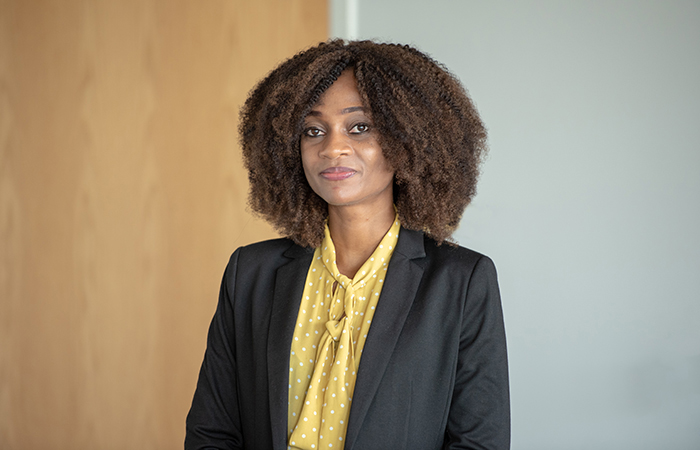 About Kobi
Master of Public Health
Health Policy and Management
---
Hometown: Nigeria
Class: 2020
Undergraduate Major: Undergraduate in Textile Designing Fine & Applied Arts; MBA
Professional Interests: Maternal and child health, health policy and administration, global health
Campus Involvement: Texas A&M Public Health Student Association, Maternal Child Health organization, Albert Schweitzer Fellowship, Project Unity, UNICEF
Why did you choose Texas A&M Public Health?
My youngest child was three months old when I first arrived. With the help of many faculty members, I was able to quickly adjust and thrive at the School of Public Health.
I recently started my project with the Albert Schweitzer Fellowship. This program funds projects that serve people and offers prevention education to those in underserved areas. My project will organize a prenatal workshop for mothers in the Brazos Valley and surrounding area. We will teach mothers and pregnant women about child abuse prevention methods and prenatal health education. I partnered with Scotty's House, a child advocacy center, and the Prenatal Clinic to carry out the workshops, which are being provided in the Brazos Valley during the next year.
When I first got here, I also noticed places around campus that lacked resources such as changing tables for babies in the bathrooms. I plan to use A&M as case study and conduct a survey to better understand what resources student mothers at Texas A&M may need.
My husband and his family really pushed me to attend A&M because of the prestigiousness, affordability and research. Now that I am here, I have been a part of many projects that have hopefully had a positive impact on different groups in the area. I have a passion for promoting the health of children and mothers, and my projects and involvement at the School of Public Health have allowed me to accomplish this goal.