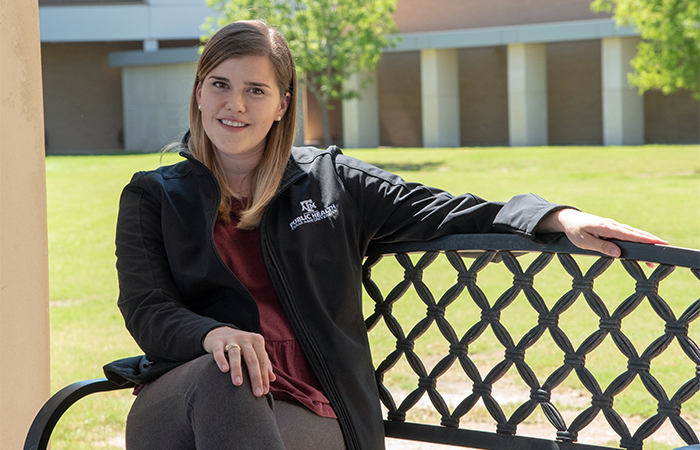 About Kathleen
Master of Public Health
Environmental Health
---
Hometown: Austin, TX
Class: 2020
Undergraduate Major: Health
Professional Interests: Environmental health, Superfund sites, environmental justice
Campus Involvement: Institute for Sustainable Communities, Superfund Research Center
Why did you choose Texas A&M Public Health?
Before I came to the School of Public Health, I was not sure where my path would ultimately lead. Fortunately, the program offered many opportunities for me to gain real-world experience during my time here, which has allowed me to find my place and confidently move towards my future career.
One of my most memorable experiences happened when a fire broke out at the International Terminals Company (ITC) petrochemical plant in Deer Park, Texas. I was part of a research team led by Garett Sansom, DrPH, which collected soil, water and air samples in surrounding communities to assess the environmental impacts of the fire. With this experience, I was given a unique opportunity to observe and respond to a real-life environmental disaster. In addition, I gained insight into the coordination required by both communities and the state to ensure the public's health and safety. Overall, I realized the importance of research in providing valuable public health information during and following disasters.
The research team led by Dr. Sansom operates in conjunction with the Texas A&M University Superfund Research Center—an entity that promotes and funds multidisciplinary projects with the goal of evaluating complex hazardous chemical exposures and associated adverse health impacts. Through my involvement, I developed an interest in disaster research. I am very thankful for the opportunities that I was given while at the school.
Currently, I am a research associate at Truth Initiative, a nonprofit tobacco control organization dedicated to achieving a culture where all youth and young adults reject tobacco.