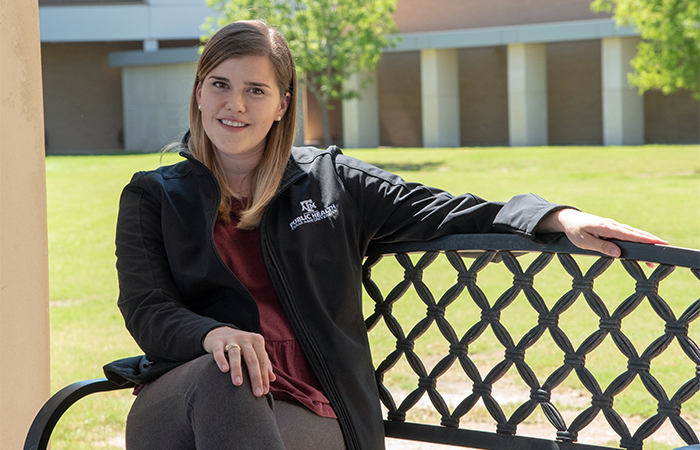 About Kathleen
Master of Public Health
Environmental Health
---
Hometown: Austin, TX
Class: 2020
Undergraduate Major: Health
Professional Interests: Environmental health, Superfund sites, environmental justice
Campus Involvement: Institute for Sustainable Communities, Superfund Research Center
Why did you choose Texas A&M Public Health?
Before I came to the School of Public Health, I was not sure where my path would ultimately lead. Fortunately, the program offered many opportunities for me to gain real-world experience during my time here, which has allowed me to find my place and confidently move towards my future career.
One of my most memorable experiences happened this past April when a fire broke out at the International Terminals Company (ITC) petrochemical plant in Deer Park, Texas. I was part of a research team led by Garret Sansom, DrPH, which collected soil, water and air samples in surrounding communities to assess the environmental impacts of the fire. With this experience, I was given a unique opportunity to observe and respond to a real-life environmental disaster. In addition, I gained insight into the coordination required by both communities and the state to ensure the public's health and safety. Overall, I realized the importance of research in providing valuable public health information during and following disasters.
The research team led by Dr. Sansom operates in conjunction with the Texas A&M University Superfund Research Center—an entity that promotes and funds multidisciplinary projects with the goal of evaluating complex hazardous chemical exposures and associated adverse health impacts. Through my involvement, I have developed an interest in disaster research. In the future I hope to cultivate this interest by working for agencies such as the Environmental Protection Agency (EPA) or Texas Commission on Environmental Quality (TCEQ).
Thanks to the support and encouragement from faculty members, I have learned a great deal throughout my time here at the School of Public Health. I value the opportunities that I have been given and hope to continue this work throughout my final year at Texas A&M.