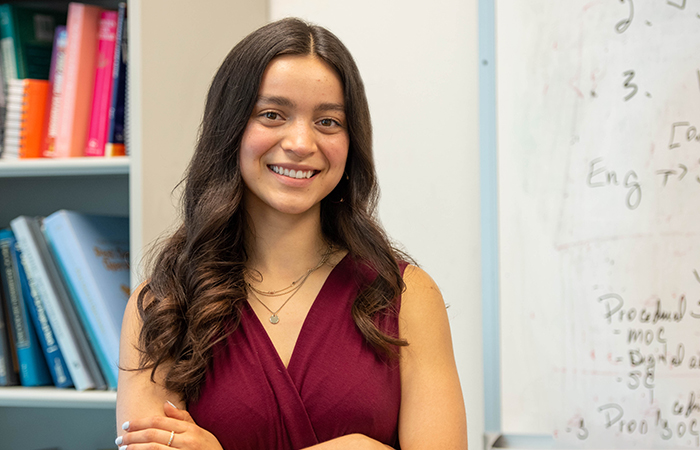 A&M student in inaugural Pfizer program class
A Texas A&M senior was inaugurated into the introductory class of Pfizer's Breakthrough Fellowship Program who worked alongside the company while it manufactured the first Food and Drug Administration approved COVID-19 vaccine.
As part of a broader commitment to increase minority representation at Pfizer, the Breakthrough Fellowship program was created with the goal of forming a team of minority fellows who will transcend the ranks of the company throughout the nine-year program to grow their career. Pfizer hopes to develop 100 fellows by 2025.
"We are committed to developing [Pfizer] colleagues for long-term success, and we aim to ensure that our workforce and business model reflect the diversity of our patients and the communities we serve," CEO Albert Bourla said in a tweet announcing the launch of the program.
The first-of-its-kind program launched in April with the goal of creating long-term career opportunities for minority undergraduates. Public health senior Carolina Uribe was one of 20 students to take part in the inaugural class this past summer. During the internship portion of the program, Uribe worked in the Pfizer Global Supply department, or PGS, where she worked under the office of PGS President Mike McDermott and his Director of Strategic Projects and Business Operations Erin Licari.
"It was a really interesting position to be coming in as an intern being so high up," Uribe said. "I was able to see the entire scope of Pfizer global supply, going from manufacturing to product distribution, and then even learning more about marketing and science and all the cool things in those different realms."
As an intern in the PGS department, Uribe was responsible for weekly reports and organizing team meetings and virtual visits. As a diversity ambassador, she created social media campaigns, including a Pride month series.
"One of my goals for the summer was to be a new light in the Global Supply department," Uribe said. "My hiring manager Erin was pretty excited about bringing in a fresh new face into these meetings, trying to get a different perspective."
Uribe said she was challenged to make 30 networking connections by her hiring manager during the three months of the summer internship portion. By the end of the summer, Uribe had doubled her original goal of connections.
"It was really eye-opening," Uribe said. "I saw there were so many different backgrounds, so many different ways of working and so many different skills."
Being a part of the first class, Uribe said she is excited for the opportunity to get to shape the program in its adaptations.
"Hopefully we leave some sort of legacy because it is a really awesome program," Uribe said. "We were able to meet with the CEO, different executive members at Pfizer, so I hope that they'll remember these were the first people [who influenced] it."
Uribe urges students interested in applying for the next class of fellows to grow their understanding of science and potentially help them find a career path they never expected themselves to follow.
"Pfizer is such a big and welcoming company, there's so many different things you can do there. And they're also really good about pivoting," Uribe said. "Don't be afraid to make yourself uncomfortable. I am naturally super introverted, and I second guessed myself a lot. So, coming into this application process, meeting different people who were senior executives at Pfizer that had worked there for 20 or 30 plus years, I was so intimidated, but being able to share my own two cents on things or ask questions was awesome."
Eligible students interested in the program should apply between Sept. 10 through late October. According to their website, the program begins with a summer internship during the student's college careers and is followed by two years of full-time employment within the company, then a fully funded scholarship for the student to attend a MBA or MPH program of their choice.
"This program taught me a lot about the company, about science and about networking to meet different people," Uribe said. "But most importantly, I grew a lot as an individual, and I learned more about myself than I did about anything else. So, my advice would be just to step out of your comfort zone, ask questions, talk to people and push yourself."
This article originally appeared in The Battalion.