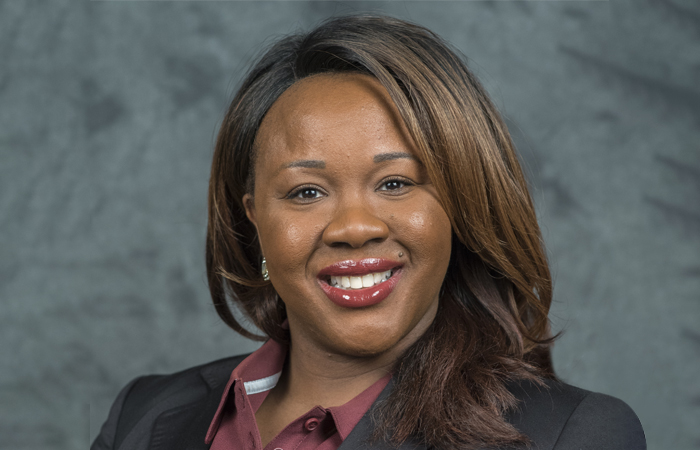 Cindy Storoy, '20
Human Resource Director, Cryptologic & Cyber System Division
Director, Manpower, Personnel and Training Office
U.S. Air Force, San Antonio
Why did you choose Texas A&M's Executive MHA Program?
"No. 1, it's A&M, so of course, Texas A&M's reputation precedes itself. What really attracted me to this program versus other programs was the fact that as a busy wife and mother and a person who works full-time, this program was conducive to my busy lifestyle. I'm the kind of person who is always on the go and I had to have a program that would also go with me. That's what this program did."
What was your experience like in the program?
"It is not an easy program, and it is definitely one that stretched me professionally and personally. You want a program like that because you're going to remember not only what you learned, but you're going to have a significant amount of growth once it's all said and done. I really believe I grew as a person. I loved that it was just two years, anything longer than that, I don't know if I would have survived. The way the program is laid out is amazing."
How did the Executive MHA program prepare and/or enhance your career?
"The way the program impacted me was being able to meet and network with not just my classmates, but the professionals who were teaching the class. The sheer knowledge and being able to learn from professionals who are doing the work [was impactful]."
How would you describe the culture of the program and Texas A&M?
"The Howdy culture! What was awesome was that even though we were not on campus like the traditional students are, we still brought that Howdy culture with us. We took care of one another. It was really like a brotherhood, sisterhood type thing. The culture was one of professionalism, but still comfortability because we spent a lot of time together."
What did you think of your MHA courses and competencies?
"The curriculum is second to none. I would put this curriculum up against any MHA program out there. I think they did a great job of keeping the integrity of the program, not making it easy for us, but at the same time, making it manageable for busy professionals. In terms of the actual course work, it was tough, but it was good and thorough. There are still some concepts that I use today."
Is there a favorite memory or a personal story you'd like to share about your time in the program?
"We had some good times. Probably the most fun we had was our last class on campus in College Station because we hadn't seen each other. I guess the most memorable thing that happened during our time was COVID. We started together and then COVID happened around March of 2020. We were still trying to navigate the program and we said no matter what, we are going to meet up [at the end]. There were no in-person graduations happening, so we all ordered our cap and gown, and we took pictures by the big ring at the Former Student Association. We just had fun with it and made our own graduation experience. That will be something that I will always hold dear."
What has changed for you personally and professionally since the program?
"A lot. This master's was very instrumental in me getting the job I have now. A lot of the jobs that are posted now want someone with a master's degree. You just cannot move forward professionally without a master's degree in a corporate setting. I am not saying that people can't be successful with less than a master's, but it is difficult in the corporate world, or even in the military, to move forward or move higher without a master's degree. The degree has opened a lot of doors for me professionally. Personally, being able to talk to my kids about realizing their dreams and not letting circumstances or challenges stop them from what they really want. That's really important to me."
What recommendations do you have for future students?
"If you're a working professional you absolutely have to take advantage of this program. I would really encourage professional students who work full-time to put this program at the top of their list because you're not going to find another one like it. There is no one out there doing what the EMHA program is doing, so you owe it to yourself to at least explore it, research it, talk to former students like myself, and really weigh your options. This program is really producing some amazing professionals."