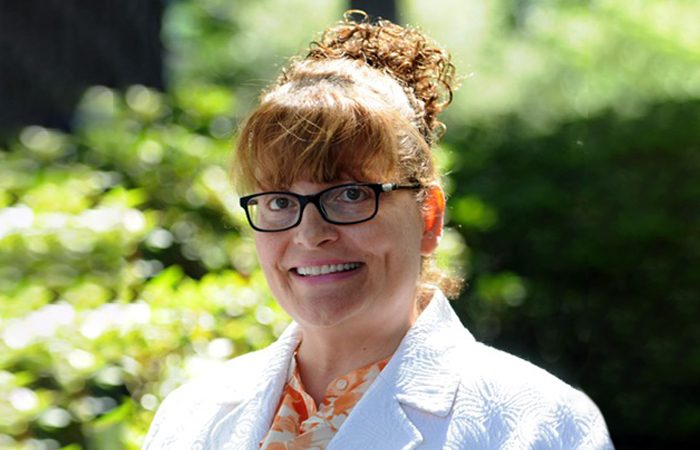 Julie Rabat-Torki '17
Administrative Director of Government Reporting
Harris Health System, Houston
Why did you choose Texas A&M's Executive MHA Program?
"I was in my 50's when I started the program, but it was always a dream of mine to complete a master's degree. When I heard about the program and they were explaining to me how convenient it was going to be, I really liked the way they laid it out. I felt with a full-time job and family that I could really do well with this. I really wanted to go to the best school that I could get accepted to; that was important to me. I would say it was on my bucket list and everything just fell into place for me." 
What was your experience like in the program?  
"I loved every minute of it. I loved all the professors. It was very engaging and exciting. We did many presentations, wrote papers, and had really good discussions, and it was all great fun. I learned a lot and enjoyed every minute." 
How did the Executive MHA program prepare and/or enhance your career?  
"It gave me a certain amount of confidence in myself to know that I could actually still do it, because I did well in the program. I was bound and determined that I was going to do well, and I did. I didn't allow myself to try to slack off. When you have an MHA next to your name from a reputable school, I think that buys you a little credibility when you walk in the room. I went through really 30 years of my career without that, but I just feel like it brought me up to par where other people are. The degree will help me not be passed up by others in the workforce." 
How would you describe the culture of the program and Texas A&M?  
"I think we had a great group. We were very connected and more like family. We helped each other and made sure that if someone was having difficulties we stood behind them. I think we embodied all the values and everything that exists at Texas A&M and knew we were a part of something bigger. We felt as though we were part of the university and we were Aggies. The culture was great. Everyone was respectful and had different things to bring to the table in terms of experience and the discussions." 
What made this program stand out compared to other MHA programs?  
"I think that the MHA program at A&M was very well-rounded. All of the professors had very strong, real-world experience; they were not teaching things that they hadn't lived before which makes a huge difference. I think the most important thing is how amazing the professors were and their degree of understanding because of their experience."
What did you think of your MHA courses and competencies?  
"I thought they were all exactly appropriate because we basically touched on all the different things that are important for someone to be well-versed in health care. You can't go into administration or management in health care and not have a solid foundation across that whole continuum. It was very well-rounded and all of it was important to me." 
What did you like most about the program?
"I loved the whole thing, from start to finish. I loved all the classes, the comradery that we developed, and the discussions we had.  Those weekends for me were such a pleasure because we would have these really robust discussions. Everybody was engaged. I always hear from younger students that you get in these groups and its more work to get everybody to do something than it is to do the whole darn thing yourself. My favorite thing would be all the professors and my cohort; it was the people that made it."
Was the program flexible with your current job at the time? How so?
"I was working for Memorial Hermann when I was doing this and that was probably a lucky thing on my part. I had kind of reangled my job to the point where I could work 45 or so hours a week and still have enough time to do what I needed to do for school, which worked out really well."
Is there a favorite memory or a personal story you'd like to share about your time in the program?
"We had a presentation to do, I don't even remember what the topic of the presentation was, but something that had to do with nursing. My partners and I got dressed up in scrubs and we found old fashioned nurses caps. We got up in front of the room and everybody was laughing. The presentation was perfect. The fact that we were able to inject humor into everything we did, it was amazing. We would also go out to dinner sometimes. We always enjoyed each other's company. Sometimes professors would join us for dinner. Those were always wonderful times, being together with everybody."
What recommendations do you have for future students?
"My advice to people is you should start a program like this when your work life is balanced. If you've got a job where you're working 60–70 hours a week, this is not the time to begin. You need time, energy and the wits about you to do the program. If you want to go into a master's program you should go in with full commitment. Also, if you feel like you're getting behind or having trouble, reach out right away to your professors. Use all the resources that you can and that are afforded to you in the program because everybody is so willing to help."