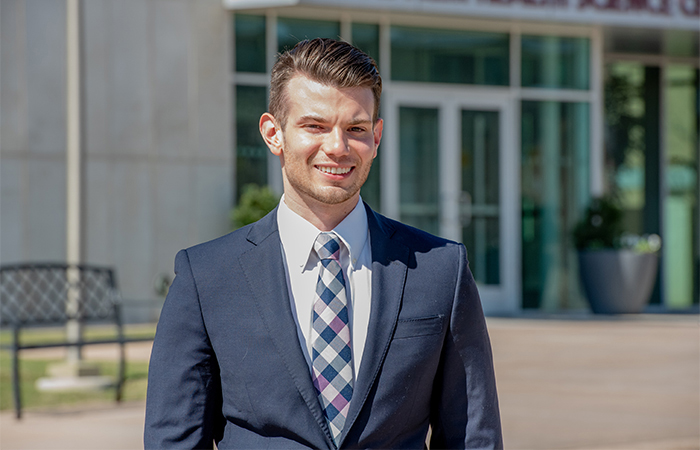 About Aaron
Master of Public Health
Occupational Health & Safety
---
Hometown: Wichita Falls, TX
Class: 2021
Undergraduate Major: Community Health
Professional Interests: Environmental health & safety, aerospace, ergonomics
Campus Involvement: American Society of Safety Professional (ASSP), Applied Ergonomics Conference, NIOSH Trainee
Why did you choose Texas A&M Public Health?
I have always been passionate about promoting safety in hazardous work environments because many of my family members are blue collar workers. After seeing my loved ones sustain injuries that occurred at the workplace, I wondered if their outcomes would have been different if a health and safety specialist was there to fight for their protection. By pursuing an MPH in occupational health & safety, I can lead safety protocols to better protect people like my family members every day.
During my time at the School of Public Health, I was selected to receive the National Institute for Occupational Safety and Health (NIOSH) grant which gives full-ride scholarships to graduate students for one year. I was also involved in American Society of Safety Professionals (ASSP), an organization that provides students with opportunities to attend conferences and network with leaders in the field to learn more about career opportunities. The scholarship I was awarded combined with my exposure to numerous resources in ASSP are just a few of the many resources that students can take advantage of while at the School of Public Health.
I am now working full-time as a health and safety technician for SpaceX, a private American aerospace manufacturer and space transportation services company. I feel prepared for my career because of the MPH core provided at the School of Public Health. As a part of the occupational health & safety concentration, students are required to complete course work to gain the OSHA general hour certificate, a certification employers require you to have as a health and safety specialist. I am able to apply so much knowledge I learned at the school to my job at Space X. I am confident I will be successful in the health and safety field because of this strong foundation.