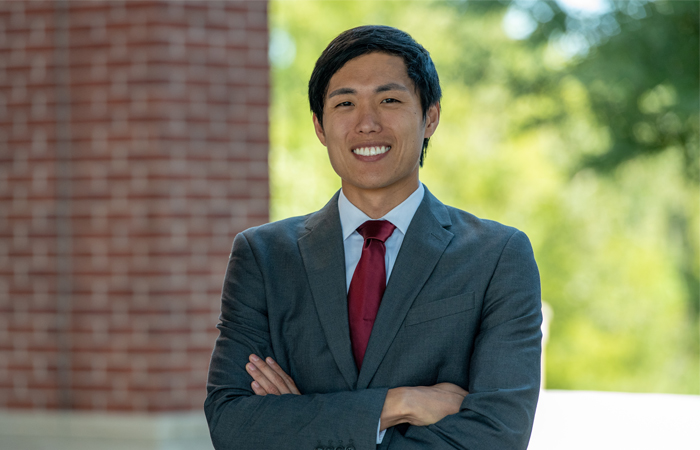 About Andrew
MD Plus Program
Health Promotion and Community Health Sciences
---
Hometown: Colorado Springs, CO
Class: 2024
Undergraduate Major: Physiology
Professional Interests: Clinical care, working on a public health team to help make systems changes
Campus Involvement: Sling Health, LGBTQ+ Healthcare Team, Surgery Interest Group
Why did you choose Texas A&M Public Health?
I chose to pursue a master's degree in public health as a part of the MD plus program, a five-year program with the Texas A&M College of Medicine that allows students to pursue an accelerated one-year master's degree before their first year or between their third and fourth year of medical school. During my master's program, I learned so much from the mission-driven faculty, and I was given many opportunities to get involved in the A&M and Bryan/College Station communities.
I did my practicum at Project Unity, a nonprofit organization where I supported the HIV health promotion programs. I traveled to other nonprofits and the juvenile detention center to conduct HIV prevention presentations and to lead support groups for people who are living with HIV on Affordable Care Act enrollment. I also enjoyed assisting with the "Achieving Together Initiative" which is a stigma reducing initiative led by HIV positive people in Texas. My practicum advisor Dr. Robert Garcia was very supportive setting aside time to talk to me about my professional goals and to meet with me to help with projects I was working on at Texas A&M unrelated to the practicum or class.
I am excited to start medical school, but also to continue to work with Project Unity under the Albert Schweitzer Fellowship, a community service fellowship that offers graduate and undergraduate students the opportunity to design a year-long community service project that addresses the health needs for underserved populations. With Alex Le, another student in the health promotion program, I will be developing a new program (adapting it in response to COVID-19) to help improve HIV health promotion efforts in Bryan/College Station. I'm very grateful to the School of Public Health for the continued support, encouragement, and ways it has helped shape me professionally and personally.