Oluyomi "Yomi" Oloruntoba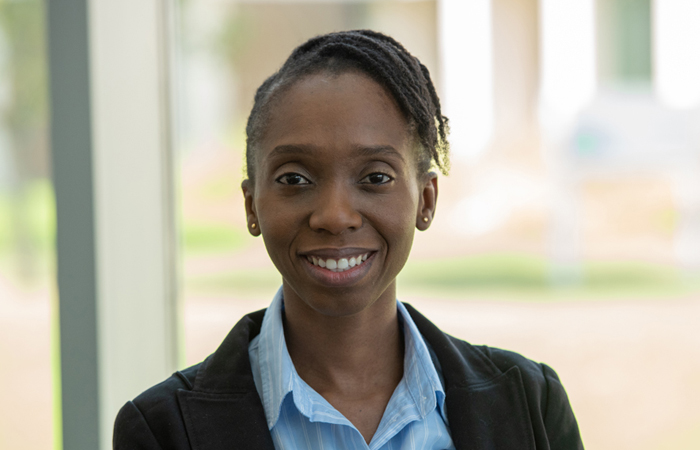 Accomplished graduate student shows leadership through research
Her research interests include substance abuse, safety and emergency response, and dental ergonomics
As a second-year student in the Doctor of Public Health Sciences (DrPH) program in Environmental & Occupational Health at the Texas A&M University School of Public Health, Oluyomi "Yomi" Oloruntoba has accomplished a great deal. Her achievements consist of several competitive honors and awards, including a scholarship from the Texas Chapter of the American Society of Safety Professionals, and the Gold Medallion, the highest award offered through the Public Health Scholars Program at Texas A&M. She also holds a Health Coaching Certificate and is a Certified Health Education Specialist.
One of Oloruntoba's most recent and proudest accomplishments is serving as co-author on a recently published study on how the relationship between socioeconomic status and access to health care affects healthy aging—the ability to develop and maintain well-being in older age. The study, published in Frontiers of Public Health, identifies examples of interventions across the globe that improve healthy aging, and offers recommendations on research-guided action to remediate the trend of older age being associated with lower socioeconomic status, lack of access to care and poorer health outcomes.
"In the United States, there is a projected increase in the number of older adults and a projected decrease in the number of younger adults," Oloruntoba explained. "This means that older adults will likely outnumber younger adults in years to come. To prepare for this situation, it is important that we identify the needs and challenges of providing care to older adults to ensure they will have access to health care in the future. Properly assessing how socioeconomic status affects healthy aging is an effective way to help aging adults improve their health outcomes."
Oloruntoba said that working on this aging-related paper was "an amazing experience," yet her strongest research passions include substance abuse, safety and emergency response, and dental ergonomics, which focuses on making dental working conditions safe and healthy for dental professionals.
"For example, dentists may experience back pain from bending and hunching over patients while delivering care," Oloruntoba said. "Learning elements of dental ergonomics, such as proper posture, may help prevent this back pain."
Oloruntoba's interest in dental health germinates from her bachelor's degree in dental surgery from the University of Ibadan in Nigeria. She spent four years working in the dental industry in Nigeria before coming to the United States to earn her Master of Public Health (MPH).
"During my dental program, I learned a lot more about public health," Oloruntoba said. "I saw patients with ailments seek medical care late. This affected their health outcomes and resulted in more resources spent on health care. I thought, 'If I stay in the clinic and wait for patients to come to me, they are going to be in really bad shape. The best way to help these people is through preventive care.' I was checking online and found the master's program in health promotion and community health sciences at Texas A&M, and I thought to myself, 'This is a very good fit. I want to help prevent diseases, not just treat them.'"
"It is a pleasure to work with Yomi during her doctoral studies," Smith said. "Her professional drive and dedication to learning is evidenced by her growing skillset, emerging publication record, and recent awards and accolades."
In her free time, Oloruntoba loves to listen to music and read novels.
"Yomi's humble and collaborative nature are strong qualities of an effective leader," Smith said. "The field of public health needs leaders like Yomi now more than ever."