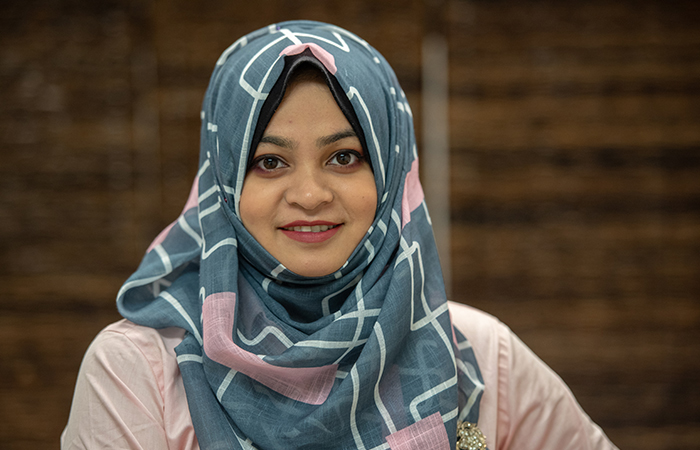 About Tasmiah
Doctor of Public Health
Health Behavior
---
Hometown: Dhaka, Bangladesh
Class: 2023
Undergraduate Major: M.S.S. Population Sciences, B.S.S. Population Sciences
Professional Interests: Vaccination coverage, Maternal & Child Healthcare, Health disparities, Health promotion
Campus Involvement: Bangladesh Student Association, Global Health Research Group, Hagler Institute for Advanced Study
Why did you choose Texas A&M Public Health?
I am from a developing country where an overwhelming majority of people do not have access to proper healthcare. The lack of education and awareness concerning maternal and child healthcare is what encouraged me to pursue a career in public health.
After graduating with a master's degree in population sciences, I worked for the United Nations Population Fund, focusing on improving accessibility to maternal health services in my country, especially in the wake of the Rohingya refugee crisis. My research during this time helped me realize the potential of translating knowledge and skills of public health into effective interventions that can save lives on a large scale. The experience I gained while working for the UN also encouraged me to seek doctoral programs that would enhance my leadership role in public health.
As the first student from the Texas A&M School of Public Health to receive a fellowship from the Hagler Institute for Advanced Study, I am working with Dr. Peter Hotez, an internationally recognized expert on tropical disease and vaccinations, to develop a vaccine risk index for measles. This vaccine risk index will help determine the factors contributing to vaccination coverage. Vaccine hesitancy has now emerged as a major force impacting vaccine coverage. I've learned so much through this project and enjoy working with researchers and faculty to save millions of lives.
The loyalty and respect that flows through the School of Public Health with endless opportunities for research arm students with the knowledge and skills they need to change the world. Although I am 8,000 miles away from Bangladesh, my involvement with the School of Public Health makes Texas A&M feel like home.