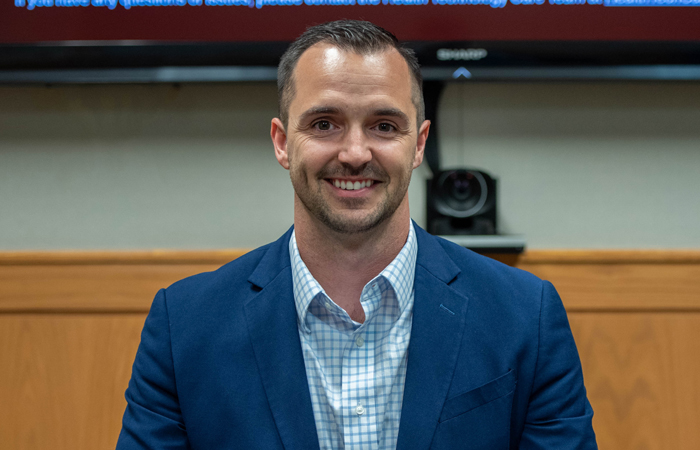 Alex McLean '22
Why did you choose Texas A&M's School of Public Health? 
"It has always been a goal of mine to be an Aggie. Based on the history, camaraderie, and culture of the school and hearing of the unique experiences from people I knew at A&M, kept me driven to be an Aggie one day." 
What has your experience been like in the program? 
"My experience with the School of Public Health has been fascinating. I came into the program when classes were online due to COVID, and the adaptability shown by professors and students has cultivated our ability to be adaptable." 
How do you feel this program has helped you prepare for a post-grad career? 
"The endgame has always been to prepare me for a position in healthcare; this program has accomplished that and was able to assist me in getting my foot in the door with a great healthcare system. The program also introduced me to the current state of healthcare and opened my eyes to the not-so-distant future of medicine. I had the opportunity to learn both in and out of the classroom with all the resources that were made available to me. The school gave me a platform to explore the professional world and use my knowledge to accomplish my career goals." 
What level of support have you received while in your program? 
"The faculty have been remarkable, especially Mr. John Buckley who has been essential assisting me with networking opportunities and interviews. The faculty have been extremely supportive. The professors have been accommodating and impactful to our learning process. They're willing to meet us in the middle to figure out a plan that works best for us." 
What do you think of the coursework? 
"It's been good. The coursework not only provides us with the knowledge we need to know about the industry, but also gives us the opportunity to work on soft skills such as building relationships and learning how to work with others." 
How do you feel you have changed, personally or professionally since the beginning of the program? 
"Being able to get into the program and seeing what is important in the industry let me focus on where I needed to grow in working towards my career goals. Personally, it has been a blessing to work part-time, be a full-time student, but still have time to spend with family."
What advice would you give someone looking into A&M's School of Public Health? 
"Get started early with the process. Take the time to come visit campus and talk to students who have gone through the program. Take advantage of the time spent here because the professors will do nothing but support you and give you the resources to succeed."  
What are your plans for the future? 
"I have a job with CHRISTUS in Tyler working as a project manager once I graduate. I want to continue to learn and master as many aspects of healthcare as I can. I like working and leading and want to do that in the public health realm in hopes that I can make a difference in other people's lives." 
 What has been your favorite thing about the program?  
"My favorite thing is getting to learn from the other students in the cohort. I'm the 'dad' of the group because I'm about 10 years older than most of my classmates. Getting to spend time with college-age students has been a fun and unique experience, observing their view health care and how they address and solve problems has been enlightening and refreshing."