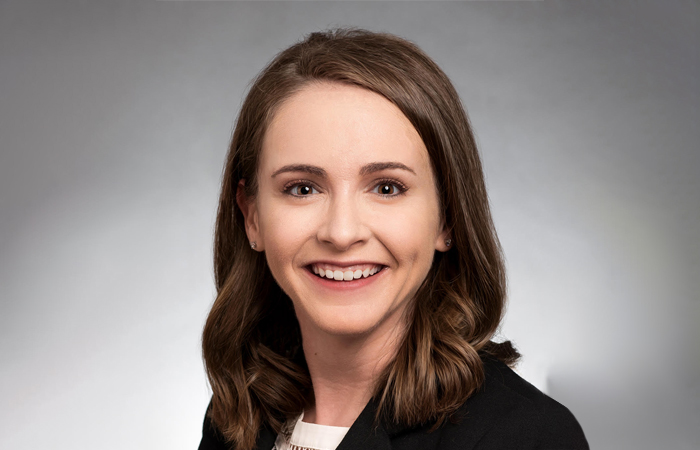 Alyssa Linton '18
Associate Vice President of Hospital Based Providers
Memorial Hermann Health System, Houston
Why did you choose Texas A&M's Executive MHA Program?  
"What was really important to me was I didn't want a fully online program; I wanted the connection of being in-person and connecting with my classmates. As I looked at the curriculum offered by different programs I was really impressed with the A&M program. I received feedback from people on curriculums for several programs and A&M seemed to have the most cohesive course curriculum."
Why did you choose a management role in health care rather than continuing in a clinical role?
"I was really resistant to it at first. I enjoyed the clinical world and being a nurse, I liked using those skills. After having twins I realized it may not be sustainable to work shift work long-term. As much as I loved it, I felt that branching over to the administrative side gave me the opportunity to lend my clinical expertise to a different role and to use that skillset to help in a different way."
What was your experience like in the program?
"It was great, and I really enjoyed the program. What you put into the program is what you get out of it. I think being an adult, it was a completely different experience than if I would have gone straight from my bachelor's program into a master's program. I certainly appreciated it more.  With the executive track, you know where your deficiencies are as a health care administrator and you know how important some of those core classes are."
How did the Executive MHA program prepare and/or enhance your career?
"I think that each piece of the course added to my career in ways that I didn't expect them to. It has added that extra comfort level that I feel confident raising my hand and saying, 'What if we try this way?' Some of the things I didn't really learn about in my undergraduate, I feel like I made up for that in this program."
How would you describe the culture of the program and Texas A&M?
"I think it was very clear from the beginning that excellence was expected. This is not a program where you are going to slide by. They made a big point about integrity and what it meant to be in the program. Our class has stuck together, and we've gone back for football games. Those in our cohort that did their undergraduate at A&M really helped bring that tradition to life. I feel like it was still a big part of our program even though we weren't physically on the A&M campus."
What did you think of your MHA courses and competencies?
"I thought it was very cohesive. With the executive program being so new I felt we had a lot of opportunity to shape the program for future classes and cohorts and everyone was really open to feedback. I think it helped the program to learn from people who have gone through it and will help make it better in the future."
What did you like most about the program?
I liked the size, all the professors and my cohort. We all got along, and we supported each other. I think it's a unique situation when you put people together with all their different experiences and you can really learn from listening to them. It was a very diverse group and we learned so much from each other."
Is there a favorite memory or a personal story you'd like to share about your time in the program?  
"Most of us went out to dinner after we finished for the day and we really enjoyed being with each other. Sometimes the professors would join us, and we would get more information and we just didn't want to stop. We wanted to keep exploring some of the topics and we were given the ability to do that. Going to my first A&M football game with the group was also a highlight for me. Being able to reconnect with some of my classmates in that environment was a lot of fun."
What recommendations do you have for future students?
"Get as much out of the program as you can while you are in it. Ask difficult questions and continue to learn from your fellow cohort members. Come in with an open mind and don't expect to have all the answers. Learn from other people, be a team player and realize that the program is about teamwork. And be open to really think about things in different ways."