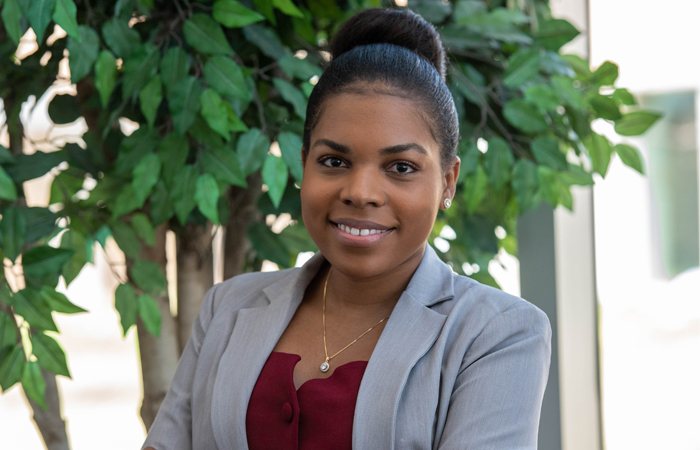 Kheli Lawson '23
Why did you choose Texas A&M's School of Public Health? 
"I am passionate about public health, and I wanted to pursue my degree at a Tier 1 university. I was deliberate in selecting A&M's School of Public Health because I knew it would give me the opportunity to work on groundbreaking research with distinguished professors and gain the necessary competencies to become an excellent public health professional." 
What has your experience been like in the program? 
"My experience has been remarkable. I have been able to collaborate with my classmates on multiple projects and assignments, reinforcing that more is achievable through teamwork. I cannot overemphasize how dedicated and supportive my professors have been, which has served as a motivation to do my best."
How do you feel this program has helped you prepare for a post-grad career? 
"The program has immensely enhanced my knowledge and skills while giving me the confidence to tackle tasks as a public health professional."
What level of support have you received while in your program? 
"The faculty is very supportive and in tune with helping the students. They are fully invested in seeing that I achieve my full potential. I want to say thank you to Dr. Gerard Carrino and Dr. Alva Ferdinand because they have provided excellent mentorship that has guided me this far in my graduate school journey." 
What do you think of the coursework? 
"At times the coursework can be intense, but overall, it is manageable. I appreciate that it challenges me to think outside of the box in using different approaches to solve problems." 
How do you feel you have changed, personally or professionally since the beginning of the program? 
"I have grown tremendously because I have the confidence and skillsets to tackle any task that is thrown my way as an equipped public health professional. Personally, I am more collaborative and solution oriented than when I began." 
What advice would you give someone looking into A&M's School of Public Health? 
"If you are looking for a top-notch university where the faculty members are dedicated to assisting you in growing as a public health professional, this is the right place for you." 
What are your plans for the future? 
"My plan is to work in Preventive Medicine as well as be involved in healthcare research that focuses on health disparities. I plan to work on health policy initiatives, too." 
 What has been your favorite thing about the program? 
"My favorite thing about the program would be the diversity of the cohort. As an international student, I always feel included and comfortable to have discussions with my classmates and professors. From day one everyone, has been so supportive and it has felt like home."