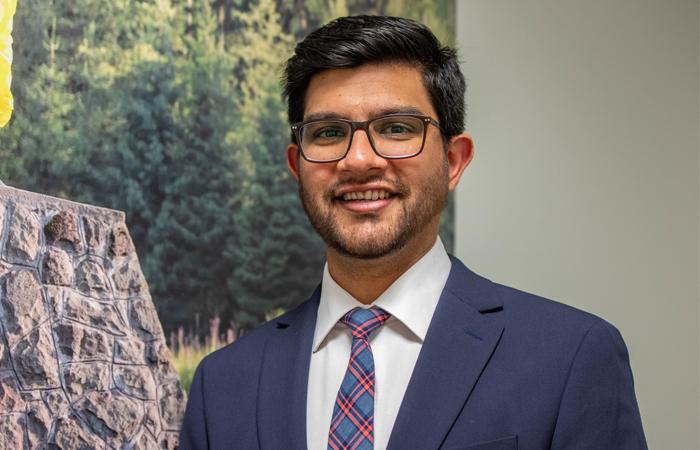 Faraz Karim Jivraj '22
Why did you choose Texas A&M's School of Public Health? 
"The School of Public Health has a great health policy and management program that allows me to explore and be exposed to both fields, which are even more relevant today due to the pandemic. The school is smaller program that allows for more intimate relationships with faculty and staff." 
What has your experience been like in the program? 
"Moving continents in the middle of a pandemic was difficult, but the faculty and staff have been helpful and accommodating. The program has been challenging, but I would say it has been challenging in a good way. It has allowed me to develop skills that enable me to think in a broader context and discover my interests better along the way." 
How do you feel this program has helped you prepare for a post-grad career?
"There are multiple opportunities to collaborate with professors and get hands-on experience for jobs that are available when I graduate. Having the Aggie network as a support system has also been a big plus for me."
What level of support have you received while in your program? 
"I have received support on a personal level and an educational level. My cohort is a diverse group of students, and this has created a deeper learning experience. The faculty and staff have been resourceful in helping me navigate through my journey, and I am constantly developing interests that would guide my career path after graduation. The school is conscious of the large number of international students, and they have done a great job in being inclusive and supporting us."
What do you think of the coursework? 
"The coursework is balanced, and it has allowed me to grow my skills. I can choose various electives and certificates across other schools too, which has been a huge plus for me."
How do you feel you have changed, personally or professionally since the beginning of the program? 
"I have gained the ability to look at tasks in broader strokes and also at a granular level, which I could not do before. The mentoring from faculty and other learning programs such as the Money Education Center has allowed me to learn about the world outside of the school I have gotten more confident in the decisions I make and have learned to not be afraid of asking questions and reaching out for opportunities." 
What advice would you give someone looking into A&M's School of Public Health? 
"Learn to network, do not be shy to ask for help and inquire about opportunities. People at the School of Public Health are always willing to share, advocate and connect people to possible projects - it is just a matter of making the first initiation and reaching out."
What are your plans for the future? 
"My short-term goal is to go back into the industry and focus on program evaluation, which is something I am passionate about. In the long run I do see myself doing healthcare consulting."
 What has been your favorite thing about the program? 
"The close connections I have made with my cohort and members of the faculty is something that I love about this program. These are connections I know I will maintain as we all move forward in our personal and professional lives."