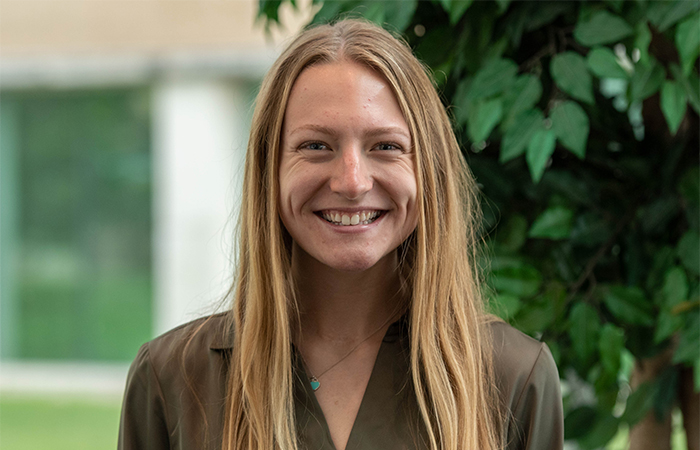 Reagan Heun '22
Why did you choose Texas A&M's School of Public Health? 
"I chose Texas A&M because of the emphasis on loyalty within the school and because of the Aggie network."
What has your experience been like in the program? 
"My experience with the School of Public Health has been great. I work closely with my cohort, and we all view aspects of public health similarly. I am fortunate to be surrounded by so many talented faculty and students." 
How do you feel this program has helped you prepare for a post-grad career? 
"There are a lot of activities the School of Public Health has to offer to assist us with our future careers. Having the practicum built into our course schedule is helpful because the practicum gives you an opportunity to gain work experience before going into the industry." 
What level of support have you received while in your program?  
"We get a lot of support on every level. The way they structure the program gives us a strong peer network. The support of the second-year students by the faculty and staff has been amazing." 
What do you think of the coursework? 
"The coursework has been challenging, but in a good way. In the program we do a lot of collaboration which allows us to be engaged with the subject matter. Coming from a biology background to the School of Public Health has revealed the social side of the science. I understood the mechanisms, but it has been eye opening to learn about social determinants of health and how to protect populations." 
How do you feel you have changed, personally or professionally since the beginning of the program? 
"The program has a huge emphasis on leadership. Understanding how I like to lead and be led has allowed me to grow as a person. The program encourages us to not just do the bare minimum. We are encouraged to get involved in research and attend events the School of Public Health puts on so we can grow professionally throughout our time here."
What advice would you give someone looking into A&M's School of Public Health? 
"I would encourage prospective students to come see the school and talk to the professors and faculty because they will help you in so many ways and give you encouraging advice." 
What are your plans for the future? 
"I can see myself being involved in policy and lobbying. I'm not sure what I want to do yet, but I want to explore the career opportunities that the School of Public Health has introduced me to." 
 What has been your favorite thing about the program?  
"My favorite thing about the program has been the way the professors have supported us beyond the classroom. They care about why we are the people we are. In one of my courses, we had a whole day discussing our personal growth and the experiences that have shaped us. People got vulnerable and that communication with your professors is not the standard experience. I am so grateful to have heard about the experiences that shape the people I am surrounded by."