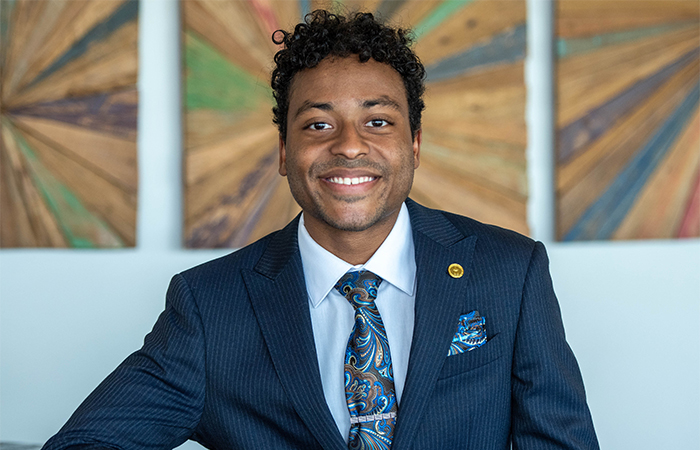 Earl Greer  '22
Why did you choose Texas A&M's School of Public Health? 
"I came to the School of Public Health because I desired an education from those who have first-hand experience in the world of healthcare, not just in academia. I wanted to identify substantial weaknesses of major healthcare systems and use my problem-solving skills to develop solutions for better healthcare delivery."
What has your experience been like in the program? 
"This program gifted me the opportunity to expand my experience in the field, my skill set to analyze data, identify areas of improvement, and revolutionize my workplace. Most importantly, the faculty have equipped me with the tools I need to succeed as an elite professional."
How do you feel this program has helped you prepare for a post-grad career? 
"This program has evolved me into a future leader with my desire to leave a bright legacy for those to follow. It has made me a competitive applicant in the public health industry. Without this program, I would not be where I am today. My knowledge, confidence, and skill set have improved drastically."
What level of support have you received while in your program? 
"I have had a strong level of support from my faculty. Dr. Gerard Carrino, and Dr. Bita Kash have been helpful in guiding me to where I want to be. They knew my goals and invested their time in helping me reach those goals. My professors have shown unwavering support in my development throughout this entire program."
What do you think of the coursework? 
"The coursework is fair, and I was delighted to be able to picture the practicality of every lecture and assignment. There is still time outside of the classroom to focus on extracurricular activities to advance yourself as a public health professional." 
How do you feel you have changed, personally or professionally since the beginning of the program? 
"Personally, I am more confident after going through the program and more open to opportunities for employment. Professionally, I can now look at a system's data and evaluate ways to make new programs or improve existing processes to improve system performance."   
What advice would you give someone looking into A&M's School of Public Health? 
"Be honest and open with yourself and other people. If you don't speak up for yourself and what you need it will be more difficult for people to help you. You have to put yourself out there in the beginning because there are so many opportunities for you here." 
What are your plans for the future? 
"Following graduation, I will be working with the Texas Department of State Health Services as a fellow. Immediately after that I plan to get my PhD in a public health related field. One day I hope to serve a healthcare organization as a leader on the executive team."