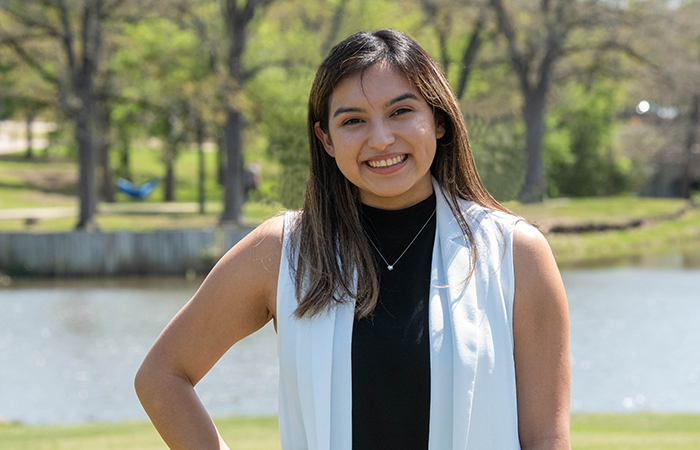 About Sarah
Master of Public Health
Health Policy and Management
---
Hometown: Katy, TX
Class: 2021
Undergraduate Major: Biological and Biochemical Sciences
Professional Interests: Community Health; Quality Improvement and Operations
Campus Involvement: Disaster Day Administration and Finance Committee; Texas A&M Public Health Student Association; Texas A&M AgriLife Research
Why did you choose Texas A&M Public Health?
Like countless others, Sarah Fasanando didn't start out on a career path in Public Health. Instead, she was focused on medical school and becoming a physician. While earning her undergraduate degree, however, a volunteer position working with the homeless made her pause and reconsider her future.
"I knew I really wanted to work in health care, and medical school was my focus for most of the time," Fasanando said. "I volunteered at Healthcare for the Homeless in Houston. Going into that experience I didn't really know a lot about homeless individuals.
"When I started volunteering and speaking with them, I learned about their stories and I started to realize that they just made a mistake. I make mistakes all the time, it is just that their mistake cost them their home, or their career. That experience introduced me to working with vulnerable populations which is what I want to do."
Fasanando, who graduateed in May 2021 with her Master of Public Health in Health Policy and Management, is currently an Aadministrative Fellow with the Yakima Valley Farm Workers Clinic. Fasanando works with the organization's vice president of operations, Michael Young, and his team and is exposed to multiple aspects of the organization's day-to-day operations.
"I work with operations workflow, budgeting, patient satisfaction and process improvement," she said. "If there is a specific department I want to work with they will rotate me so that I can get the most out of the experience. 
"I am exposed to different service lines, medical, dental, pharmacy, optometry, a little bit of everything. I am excited to be working with and observing Mr. Young so I can understand the health care leader I want to be."
While Fasanando did not earn her undergraduate degree from Texas A&M, she said that earning her master's from the School of Public Health and the Department of Health Policy and Management was an easy decision.
"I had visited Texas A&M a lot during my undergraduate because I had friends that came to school here," she said. "I just fell in love with the campus, and its atmosphere, everybody has so much pride and they are proud to be here."
And, as Fasanando comes closer to completing her degree, she says the faculty members in the department have played an important role in helping her secure her upcoming fellowship, as well as moving closer to her ultimate career goal of being a Chief Operating Officer (COO).
"I really like how all of the professors are super hands-on and they have given us opportunities to work on scenarios that are like real-life projects," Fasanando said. "I really think the hands-on experience that they try to give us is really helpful and I will look back on it throughout my career."