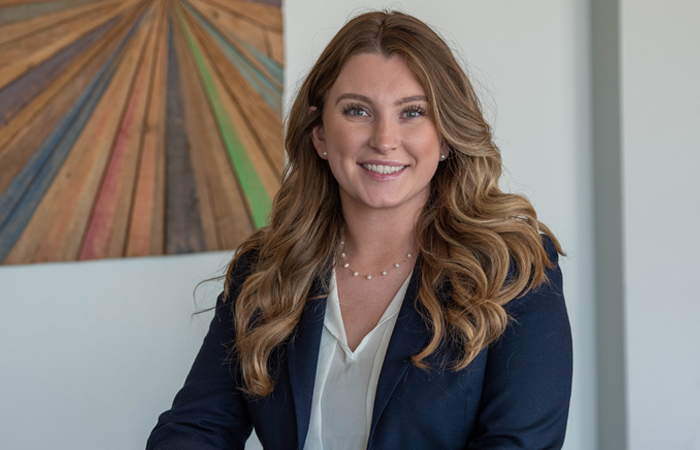 Hailey Bruining '22
Why did you choose Texas A&M's School of Public Health? 
"When I was searching for the right graduate program it was really important to me that there were opportunities available to gain work experience in my field while still attending school. During my program interview with Mr. John Buckley, I felt that the priorities I had for myself were heard and supported. Shortly after my interview he connected me with my now employer, which is something I am grateful for."
What has your experience been like in the program? 
"I have enjoyed the program. It has been great learning from professors who have diverse backgrounds and work experience. It has prompted a lot of purposeful discussion in the classroom and I have developed friendships along the way." 
How do you feel this program has helped you prepare for a post-grad career? 
"The program has provided me with a solid foundation for launching my career in healthcare. I have gained valuable knowledge and experiences that I will carry with me as I take the next steps in my career development. The Aggie network is an incredible asset — having access to Aggies that are everywhere gives me confidence as I start to expand my professional network and begin my career." 
What level of support have you received while in your program? 
"As a graduate research assistant and a student, the support I have received has been stellar. I feel like I am known as a person. All these people who are involved in my life are up to date on my career search and are willing to go the extra mile to help me in any way that they can."
What do you think of the coursework? 
"I got my undergraduate degree in business administration, so I don't come from a healthcare background. The MHA coursework has provided me with a solid foundation of the inner workings of healthcare as a career. I appreciate our deans, directors, and professors' openness to feedback and their desire to continually improve upon the program and coursework we have." 
How do you feel you have changed, personally or professionally since the beginning of the program? 
"Since I don't come from a healthcare background, at first I felt like I was missing this compelling story as to why I got involved in healthcare. However, during my practicum at Houston Methodist, I finally connected the dots. I had this 'aha' moment that this was where I was meant to be. Being able to relate to my career path on a more personal level was very valuable personally and professionally and I'm excited to get into the workforce." 
What advice would you give someone looking into A&M's School of Public Health? 
"Talk to students that are currently in the program you are applying to. Ask difficult questions and prioritize what's important to you in terms of a graduate program. A&M is an incredible community, and I am sure you will feel right at home here." 
What are your plans for the future? 
"My plan is to work in healthcare administration, ideally in a hospital setting. I am extremely passionate about accessibility and different delivery methods. I hope to make a positive impact and leave the industry a better place than when I entered it." 
 What has been your favorite thing about the program? 
"My favorite thing about the program is my cohort. We are small, which I love, and our closeness has led to a lot of open discussions in the classroom. We are comfortable sharing with one another and are respectful of each other's beliefs. I have developed close friendships along the way and it has been a wonderful support system."