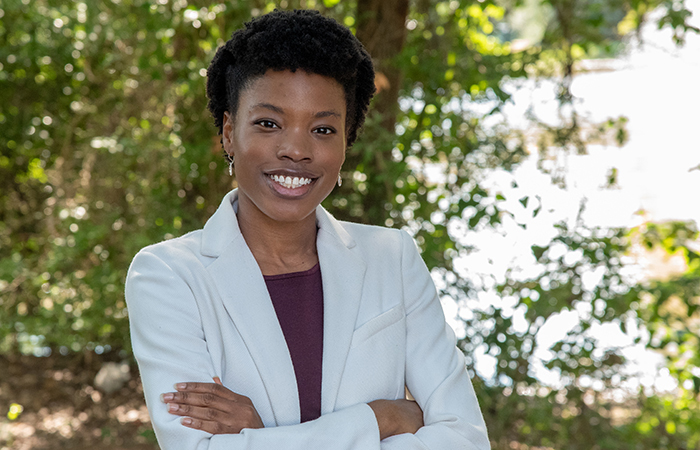 About Sophia
Doctor of Philosophy
Health Policy and Management
---
Hometown: Austin, TX
Class: 2023
Undergraduate Major: BS, Biology; MPH, Epidemiology
Professional Interests: Epidemiology, Health Policy, Data Science, Population Health
Campus Involvement: Population Informatics Labs
Why did you choose Texas A&M Public Health?
While completing a CDC Global Health Fellowship in Zambia, I discovered a posting for the Population Informatics Lab, led by Dr. Hye-Chung Kum, focused on using data for action and addressing population health outcomes. The research published by the lab aligned with my career goals of empowering leaders to use data to address the social determinants of health. The courses in my doctoral program, as well as career services provided by the school, are resources I feel will help me navigate my goal of becoming a population health scientist.
As a volunteer research assistant for the Population Informatics Lab, I had the opportunity to collaborate on a paper focused on emergency department utilization among individuals experiencing homelessness. This experience allowed me to learn firsthand how health services researchers can use their diverse skill sets to collaboratively address the social determinants of health. My exposure to projects such as these in the Population Informatics Lab has provided a good introduction into the world of data science, a vital skill I hope to use to positively impact the well-being of people in underserved communities. My new role as a formal research assistant with the lab is currently focused on evaluating Medicaid data in order to assess state-level population health outcomes.
I also desire to collaborate with professionals both inside and outside of public health by applying frameworks such as the Public Health 3.0 model in order to improve population health outcomes. Public Health 3.0 recognizes that economic development, education, housing, and a variety of other social determinants of health influence whether or not diverse communities are able to thrive. I am excited for the opportunities to reach past my epidemiology skill set to gain expertise in areas such as health economics and health policy. 
A specific resource that has been very helpful for me during my transition from the workforce back into an academic setting has been the career services program. After setting up a meeting so that I could proactively discuss topics relevant to long-term career planning, Jessica Newcomb, assistant director of career services, provided me with relevant tools and guidance for processing my transition from the workforce while keeping my end goal in sight.
I am grateful for the faculty and staff in my degree program and others at the School of Public Health who have supported me in my journey.