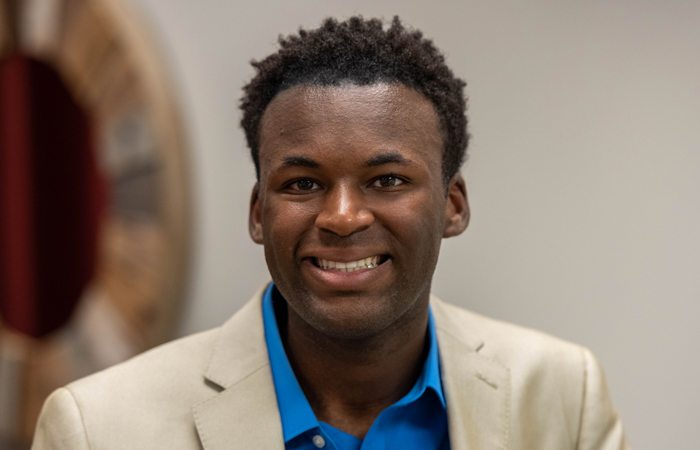 Cameron Alexander '23
Bachelor of Science in Public Health
Why did you choose Texas A&M's School of Public Health? 
"I always knew I wanted to go to A&M, and I wanted to go into something health related so I researched programs at A&M and came across public health." 
What has your experience been like in the program? 
"I have loved my experience and could not have imagined doing public health anywhere else. I love all aspects of public health now and the professors have fostered an environment where I know I can succeed." 
How do you feel this program has helped you prepare for a post-grad career? 
"I think the program has done a great job at preparing students for any career they choose to pursue. The program has taught me how to work effectively with other people and create a schedule that allows me to stay on top of my responsibilities." 
What level of support have you received while in your program? 
"I have received a great level of support. The program has amazing professors that want to see you succeed. They have always been accommodating throughout the semester and are always available. They are always willing to share resources and are always encouraging us to do well." 
What do you think of the coursework? 
"It has been pretty good. We do a lot of group work. My social dynamics of population health class was rewarding because we had to do an assignment where we went out and did community service in Bryan and College Station. This allowed us to see how we can directly impact the community. It has been nice to see what we can physically do for the community rather than just learning about how we can help them in the classroom." 
How do you feel you have changed, personally or professionally since the beginning of the program? 
"Before, I was very individualistic, but I've become a good team player. I used to want to do everything on my own but with public health, you have to learn how to work well with people." 
What advice would you give someone looking into A&M's School of Public Health? 
"I encourage new students to join student organizations. As you get more into the public health classes you will see the same people, so it is good to get to know these people outside of the classroom." 
What are your plans for the future? 
"As of now I want to get my master's degree in epidemiology. Getting this degree  will open doors for me to even more public health careers. I want to study infectious diseases and how we can slow their transmission."
What has been your favorite thing about the program? 
"I like how interconnected the material is. We can talk about a topic in one class one semester and then we talk more about it the next semester. It is nice to see the material building off each other. Since the material is reinforced, it turns into knowledge I remember that can be then applied in the future."