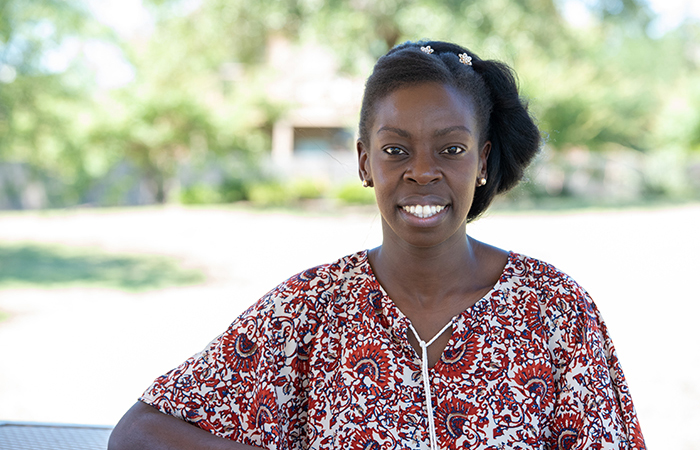 HELPING OTHERS MAKE HEALTHY CHOICES
Experiences with CDC Kenya help set Petronella Ahenda on course to improve food selection in low-income communities
Serving as a lead quality assurance and research officer at the Centers for Disease Control and Prevention (CDC) in Kenya, Petronella Ahenda, a doctoral student at the  Texas A&M School of Public Health, developed and managed outbreak response to some of Kenya's most devasting pandemics.
It was during this time in her life that she discovered her true calling.
"The CDC in Kenya is where I first found my passion for scientific research," Ahenda said. "I soon moved up to quality assurance officer where my main responsibility was to oversee a quality control program for tests performed in national public health laboratories in Kenya. I also played a leading role in the outbreak response to H9N1 influenza, Rift Valley Fever, Ebola and Dengue, which were some of my first exposures to public health."
During her time in Kenya, Ahenda was frustrated seeing how quickly the diseases facing the East African country could diminish the health of children and expectant mothers, particularly those from the refugee health camps in Dadaab and Kakuma. This fueled her desire to pursue dynamic, valid and lasting solutions for these challenges.
"I had just been blessed with two angels of my own and the very scary reality of a pregnancy during such pandemics had allowed me to reconcile my personal journey as a mother and scientist with the stark realities of the events of the day and the epidemiology data at hand," Ahenda said. "I developed a special place in my heart for improving the health of mothers and children."
In 2016, Ahenda left her children and husband behind to pursue her dream of receiving a doctoral degree in public health. Ahenda recalls the difficulties she encountered throughout her first year in the United States with little funding from the school she first attended.
"The university I was attending was great. However, I wanted a program that focused more on research related to maternal and child health, global health and health policy," Ahenda said. "In addition to this, my scholarships didn't cover all my living expenses. I felt very unhappy, I missed my children and I began to wonder if I had made a mistake by coming to the U.S."
As Ahenda continuously sought more research opportunities, she crossed paths with a faculty member,  Ann Amuta, PhD, MPH, CPH, a Texas A&M alumna, who suggested she explore programs at Texas A&M University.
"I remember my first encounter with  Dr. Lisako McKyer and  Dr. Jim Burdine at Texas A&M, who both have been my mentors. They were so welcoming and truly interested in my goals and aspirations," Ahenda said.
She said she immediately fell in love with the Texas A&M School of Public Health because it catered to all of her research needs, had interdisciplinary studies and offered students plenty of scholarship opportunities. Ahenda began her doctor of public health program at the school in 2018 and has already engaged with several faculty members on research projects, publications and presentations, including Global Health Research ( Jay Maddock, PhD, FAAHB, and  David Washburn, ScD, SM), the Maternal and Child Health Student Organization ( Maria Perez-Patron, PhD), and the Program on Public and International Engagement for Health ( Bernard Appiah, DrPH, MDC, MS, BPharm). She also serves as a lead instructor for an undergraduate public health course at Texas A&M, which allowed her to save enough to bring her family to the U.S.
Ahenda's dissertation is focused on community engagement projects related to child nutrition. She would like to work with food banks and faith institutions to promote healthy food choices and physical activities in low income communities.
"I want my research to have a positive impact on these institutions by encouraging them to provide families and children with more balanced meals," Ahenda said.
Recently, she was awarded the  Gerry C. Gunnin Ph.D. Public Health Memorial Fellowship, a scholarship focused on improving public health to continue this research to support her dissertation. She will travel to the Dallas-Fort Worth area to evaluate the community impacts of food banks in the metroplex. According to Ahenda, this opportunity would not be possible without the mentorship and encouragement from the faculty.
"The School of Public Health is a place where faculty want the best for their students and offers students opportunities to gain experience in their field of interest," she said.
Ahenda desires to work with global health institutions in the future with a focus on strengthening community impact strategies, child nutrition, health policy and advocacy systems.