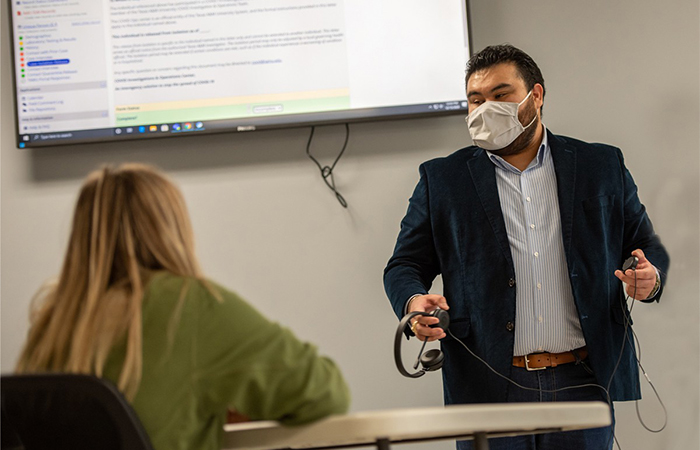 Graduate Student Recruited To COVID-19 Task Force
Public Health student Oscar Hernandez, Jr. has put his training from Texas A&M into practice to help the university's COVID Operations Team track the virus.
Texas A&M University School of Public Health master's student Oscar Hernandez, Jr. was finishing the spring 2020 semester remotely from his hometown of Laredo, Texas, when his phone rang.
It was Angela Clendenin, an instructional assistant professor in the Department of Epidemiology and Biostatistics and co-director of the  Texas A&M COVID Operations and Investigation Center. Her message was short and to the point: "I need you back. We are putting together a task force and we want you on it."
Hernandez, who will receive his master's degree this month when Texas A&M holds its commencement ceremonies, said he didn't hesitate to agree.
As part of the operations team, which is helping the Brazos County Health District with case investigation and contact tracing, Hernandez is responsible for calling individuals who have tested positive for the novel coronavirus, as well as individuals who may have come in contact with someone who tested positive for COVID-19.
"I was excited because it brought me back to the whole idea of why we study public health, this is who we do it for, the people," said Hernandez, who earned his bachelor of science in biology from Texas A&M in 2016. "I have been working at the operations center since the beginning, getting involved in grassroots public health and helping to design something that did not exist before, and it has been an amazing experience."
Clendenin said she met Hernandez when he started his master's program in the School of Public Health and was impressed with his understanding of the discipline. "He got it. He got the big picture. He got public health," she said. "As the pandemic hit, Texas A&M began planning how to offer classes face-to-face in the fall, and the Texas A&M COVID Operations and Investigations Center was born."
Approximately 55 public health students join four Texas A&M faculty and staff members working at the operations center, Clendenin said.
"We were able to recruit immediate help from our students, and with Oscar's disaster management experience and focus on the big picture of public health, it was a natural choice to bring him onboard to build something truly unique," she said.
Hernandez had taken a year off after earning his undergraduate degree to figure out his next steps. The plan had always been to work toward a Ph.D. in genetics, but he said conversations with his sister and peers who were involved with public health began to bring things into focus.
"I realized I could put my life to use somewhere else," Hernandez said. "Since my background was in science, I was certain the Department of Epidemiology and Biostatistics would be the best fit."
Hernandez said the work of case investigation and contact tracing can be difficult. "It isn't always an easy phone call to make. Sometimes the stories are uplifting, sometimes they make your day and make you laugh, and sometimes they just crush you."
He said every day working at the operations center is a challenge. "You wake up tired, you get home and you are tired," he said, adding that currently, the COVID Operation Center is his No. 1 priority, but he is also looking toward the future and what is ahead after receiving his master's.
While he is seeking for opportunities in cities that need more epidemiologists, Hernandez said he would love to return the Rio Grande Valley, an area struggling with health disparities and that has been hit hard by the current pandemic.
Wherever the path leads, Hernandez said he knows that despite feeling like he didn't fit in at first, he has found his niche in public health.
"Public Health is an argument that reminds us to do better for others, despite uncertainties and hardships," he said. "We don't do it for the money; we don't care about egos. It is about the people, it is about service, and it is about making a difference when and where people need it the most."