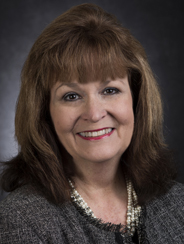 Executive Director of Communications and Alumni Affairs
Contact
Office of the Dean
212 Adriance Lab Rd.
1266 TAMU
College Station , TX 77843
raemitchell@tamu.edu
Phone: 979.436.9405
Fax: 979.862.8371

Biography
Rae Lynn Mitchell, MA, is the Executive Director of Communications & Alumni Affairs for the School of Public Health. Mitchell is a communications, marketing and public relations specialist who has over 25 years experience managing communications departments in both corporate and higher education settings.  She has developed and implemented strategic marketing/public relation strategies to increase the visibility of the school including key messages for all audiences of the college. She supervises the digital media specialist/webmaster, communications coordinator, communication interns, and contract designers and writers in the production of presentations, news releases, magazines, newsletters, brochures, and web copy as well as content management across all social media. She also oversees the production of graphics and video from concept to final product and develops and manages special events for the Dean's Office projecting staffing needs, forecasting, and budgeting. 

She completed a two-year, elected term as the national chair of the Marketing and Communications Council for the Association of Schools and Programs of Public Health (ASPPH) tasked with advising deans, communications directors, and ASPPH national staff in marketing and communications strategies. She has been instrumental in the strategic planning and the initial establishment of the alumni association where she works with a 26-member board of directors in directing association activities.
Prior to her current job, she was the first communications director hired by the Texas A&M Foundation tasked with leading the marketing and communications efforts university-wide for the first capital campaign undertaken by Texas A&M, which raised $637 million dollars.
Her work continues to receive awards from the Society of Technical Communicators, the Association of Marketing and Communication Professionals, the International Association of Business Communicators, and in national CASE competitions.
She recently served on a 3-person evaluation team of the Texas State University Advancement Department and previously, developed a leadership succession plan for the Public Policy Research Institute implemented by the Dean of the College of Liberal Arts.
For over 10 years, she has enjoyed teaching media and public relations classes part-time at Texas A&M University.
Mitchell earned her bachelor and master's degrees from Louisiana Tech University, where she graduated Summa Cum Laude.